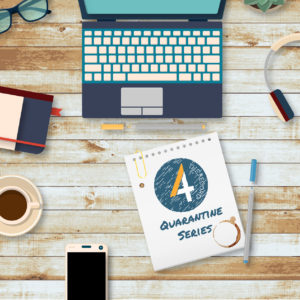 Welcome to ALL4's 4 The Record – Quarantine Series (4TR-QS)!  4TR-QS is a publication of our RegTech Group and our intent is to provide timely and applicable insight for environmental professionals during a time when the "new normal" is anything but normal.  Consistent with ALL4's purpose of growing sustainable community, we have developed the 4TR-QS to provide our perspective on challenges faced by the regulated community during this time of quarantine, while also sharing some of our nuanced technical expertise that environmental professionals can learn now and apply in the future.
Update June 12, 2020: First off – a big thank you again to our clients and others who have been working to keep our manufacturing facilities running, we appreciate you! Another thank you to those who have read or viewed our 4TR-QS content. Two months ago, we set out to provide "above and beyond" timely and applicable insight for environmental professionals during a very unique time. Our aim was to provide technical updates that were helpful during the COVID-19 pandemic but also on other topics that can be applied by environmental professionals going into the future. We had a lot of fun drafting extra articles, recording webcasts, and hosting live expert sessions! Since the launch of 4TR-QS, we saw over 10,000 professionals view our content – thank you for your trust in us!
Now that there is an increasing sense of normalcy and many localities are "opening up", we are closing the Quarantine Series and will shift our technical sharing back to its own normalcy – the 4 The Record format that many readers have become accustomed to over the years. We hope that the Quarantine Series was helpful to you and also hope that you will continue to stick with us as we release timely technical content through our 4 The Record publication. Since the Quarantine Series included content that is designed to stand the test of time, it will stay live and we hope that you'll visit this page routinely to re-familiarize yourself with the topics as they arise for you.  Thanks and stay safe!
Articles
Live Expert Webinars
On-Demand Presentations
Podcast
Amy Marshall talks keeping up with the demand for toilet paper and more on EnviroTalk

Why we launched the 4 The Record – Quarantine Series
April 2020: 4TR-QS will feature a wide range of ALL4 consultants and topics, and we will use this opportunity to deliver content in a variety of formats – keeping things "fresh" and "authentic"; the same approach that we use to deliver our services to our clients every day.  Don't be surprised to hear/see home offices, pets, children, and maybe the occasional barnyard animal in our series… it is the new normal!
Want to take advantage of this content to satisfy continuing education requirements?  Let us know and we can provide a certificate of completion.  Have specific environmental topics that you would like us to address in the series?  Let us know and we can pull something together.  We hope this helps each of you learn something new during the quarantine – Enjoy!