Five Key Takeaways from ALL4's Environmental, Social, and Governance Panel Discussion
Posted: April 11th, 2022
Authors:
Madison J.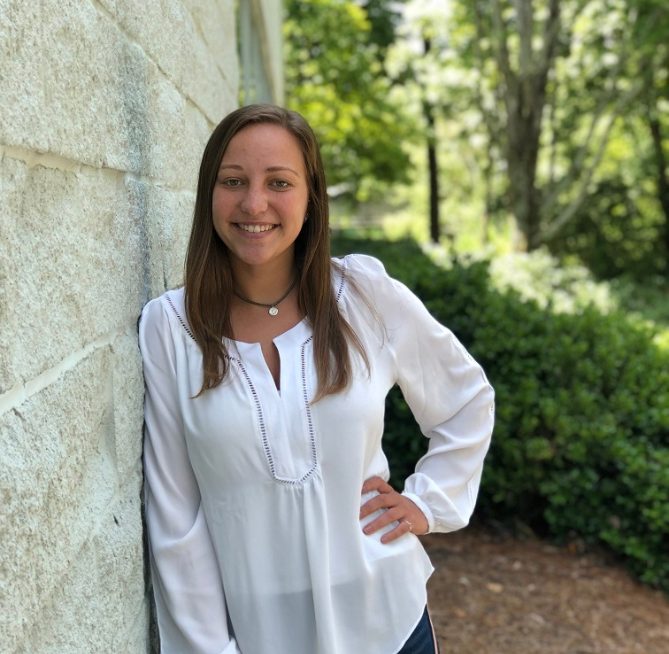 ALL4 held its first Environmental, Social, and Governance (ESG) Webinar on Wednesday, March 16th, 2022. The first of a multi-part series, the webinar, Environmental, Social, Governance (ESG) Panel Discussion: What You Need to Know & Why Is It Suddenly Business Critical, featured a panel discussion from industry practitioners at the corporate and facility level, a private equity investor, and ALL4 ESG consultants. These are the five key takeaways:
1) Learn this phrase: people, profit, planet.
In 1994, John Elkington coined the concept of triple bottom line, an economic approach where social, economic, and environmental (people, profit, planet) factors all express the health and wellbeing of an organization. Sustainability uses the triple bottom line approach to evaluate the success of, and outlook for, an organization. Sustainability then contributes to ESG. ESG is an integrated business model to identify, measure, and manage the risks and opportunities that determine the forward viability of an organization. All three concepts, triple bottom line economic approach, sustainability, and ESG, are formed around three basic elements: people, profit, planet.
The end goal of both sustainability and ESG is resilience – the capacity to thrive in the face of change – and change is something organizations have been challenged to manage in the past, are experiencing now, and will continue to be challenged with in the future.
2) The only path is forward.
ESG as a concept was coined back in 2005 but has recently gained more momentum due to public awareness of climate change and social justice. ESG has become business critical and impacts all facets of a business, from communication to customers and everything between. There is no indication that the ESG momentum will slow any time soon. Organizations need to begin their ESG journey to maintain and gain customers, investors, and employees.
3) There are multiple market pressures: odds are your organization is feeling at least one of them.
During the webinar, we surveyed our global attendees to find out what pressure(s) they have felt to start their ESG journeys. The results were:
Customer Requirements: 57%
Investors/Financers/Insurers: 50%
Employees/Community: 41%
Regulatory: 43%
None: 5%
Customers want to buy from organizations that are integrating ESG into their business models so they can in turn show investors that they are purchasing with ESG in mind. Investors look for organizations practicing ESG so they can lower the level of risk to their portfolios. It's almost full circle: an organization needs to operate with ESG in mind so that they can attract investors, and investors need to invest in ESG proactive companies to keep investing.
Depending on where an organization is located, it may be experiencing pressures from government to help meet climate and sustainability goals. Several political entities, including the European Union and Unites States, have committed to climate and sustainability goals they can only meet with the help of industry.
Equally present to those external pressures are the internal pressures from employees. The next generation of workforce has shown that ESG friendly companies rank high in their career search. Additionally, current employees care that their employers practice ESG because their organization often affects the community they are living in.
4) ESG is and will be a journey for everyone.
ALL4 believes that profound changes are happening in our shared ecosystem, in societies and in the global economy. These changes present both risk and opportunity for people, natural systems, governments and businesses. Companies who adapt their operating plans to include the various aspects of ESG will have a greater chance to succeed in this rapidly changing landscape.
To help shape the ESG journey, ALL4 has created an ESG Maturity Model. There are six stages of the ESG journey, ranging from disorganized to regenerative. The model compares the ESG stages to the level of an organization's risk. Each stage an organization advances in the ESG Maturity Model decreases that risk, until the organization arrives at the regenerative stage and achieves staunch resilience.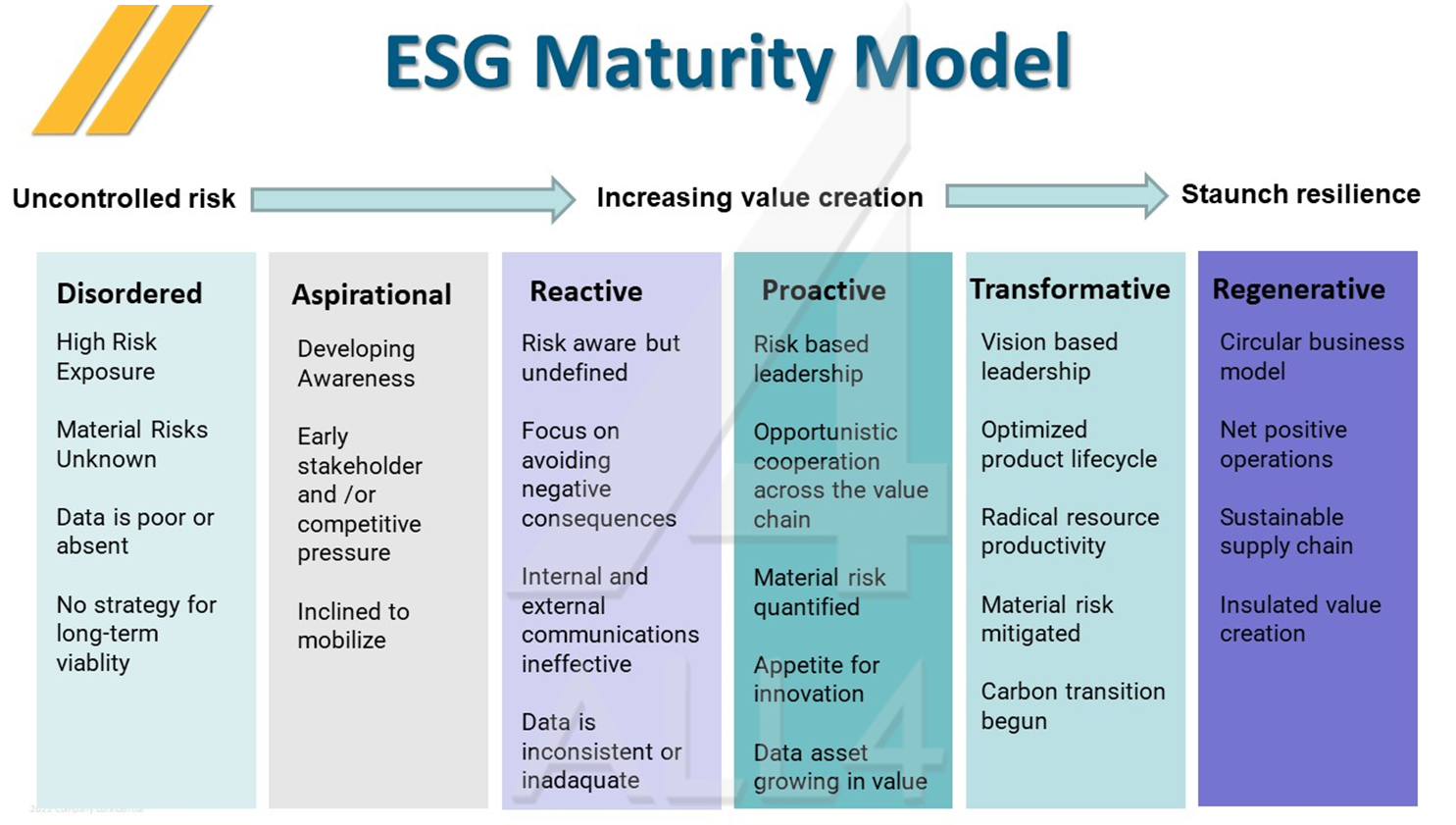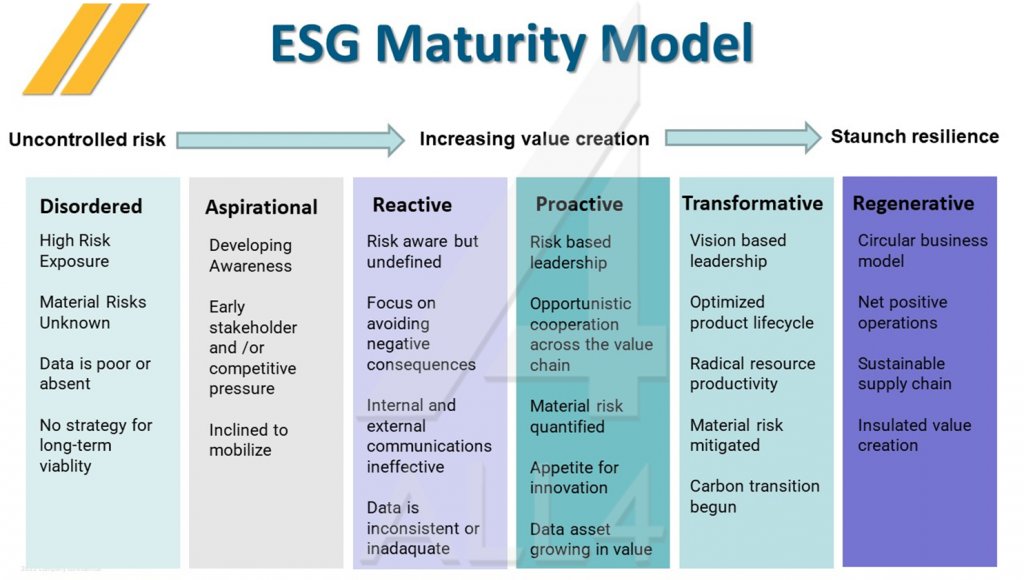 5) If you are just now starting your ESG journey…
We also surveyed the webinar attendees to see where they landed on the ESG Maturity Model: 9% said they were in the disordered stage; 89% said that they were in the aspirational, reactive, or proactive stages; and 3% said they were in the regenerative stage. There is still time for organizations to start their ESG journey and work towards that staunch resilience.
ALL4 assists companies in understanding their ESG risks and opportunities and helps them move along the ESG Maturity Model at a pace that aligns with their business objectives, one step at a time. From identification of stakeholders and performing materiality assessments, to lifecycle analyses and Scope 1, 2 and 3 emissions support, to framework guidance and reporting, and to goal setting, ESG strategy and communication, ALL4 supports our clients with a wide variety of ESG services.
ALL4's ESG Panel Discussion was the first of ALL4's planned ESG series. Join us in May for "A Practical Guide to Getting Started on your ESG Journey." Stay tuned to ALL4's Webinar schedule for updates and registration details.
Until then, here are a few ESG resources available to you:
Recording of ALL4's Environmental, Social, Governance (ESG) Panel Discussion: What You Need to Know & Why Is It Suddenly Business Critical?
ALL4's 4 the Record Articles:
If you have any questions about ESG and how ALL4 can assist you, please contact ALL4's Practice Director for ESG and Sustainability, Connie Prostko-Bell at cprostko-bell@all4inc.com or 970.397.0264.