Section 401 of the Clean Water Act (CWA) – Proposed Improvement Rule
Posted: June 27th, 2022
Authors:
Karen T.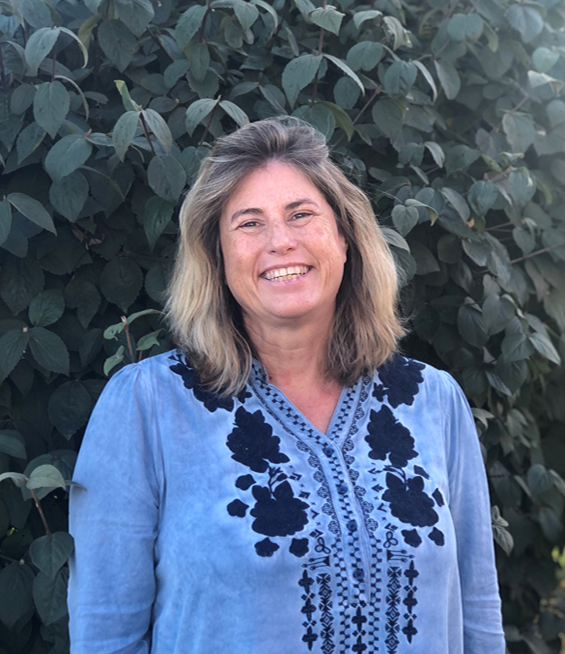 Regulatory Background
The State 401 Water Quality Certification Program reviews and authorizes selected federal licenses and permits. Any entity (including federal, state, and local government agencies) that plans to work, deposit, or place dredged or fill material in jurisdictional waters of the United States is required to obtain a permit and state certification. Examples of federal licenses and permits subject to the 401 Water Quality Certification include those issued by the United States Army Corp of Engineers (USACE) for discharge of dredged or fill material under Clean Water Act §404, and for activities that may potentially discharge into navigable waters, and hydropower licenses issued by the Federal Energy Regulatory Commission (FERC).
Effective April 6, 2022, the Supreme Court reinstated the United States Environmental Protection Agency's (U.S. EPA) vacatur of the 2020 Clean Water Act 401 Certification Rule. On June 9, 2022, U.S. EPA published the proposed Clean Water Act Section 401 Water Quality Certification Improvement Rule in the Federal Register. This proposed rule would update the existing regulations to be more consistent with the statutory text of the 1972 CWA. The public comment period ends August 8, 2022.
Key components of the proposed rule include:
A pre-filing meeting with the state at least 30 days before requesting certification.
Submissions would include a copy of the draft federal permit and any existing and readily available data or information related to potential water quality impacts from the proposed project.
S. EPA regulations would be updated to provide the states with a role in determining the "reasonable period of time" to review the request for certification. If the certifying authority and federal agency do not reach an agreement within 30 days on the length of time for review, it will default to 60 days from receipt of the request for certification. The default is automatically extended upon notice by the certifying authority (before the end of the period) that the certifying authority's public notice requirements will take longer than 60 days or if there is a force majeure event.
S. EPA proposes that when a certifying authority reviews a request for certification, it looks at whether the activity as a whole will comply with water quality requirements, which include water quality-related state or Tribal laws.
A certifying authority may make one of four certification decisions on a request for certification: (1) grant certification; (2) grant certification with conditions; (3) deny certification; or (4) expressly waive certification.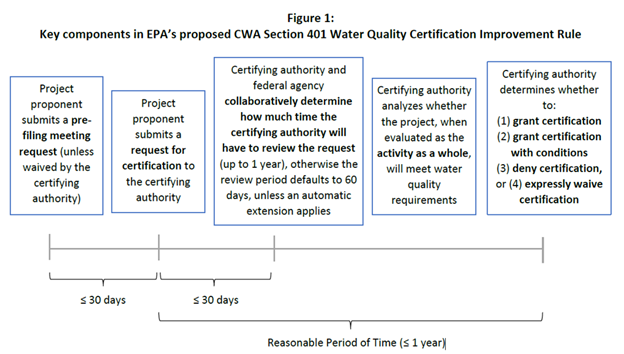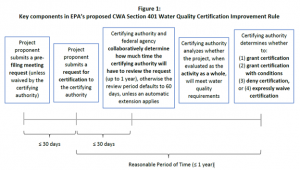 What Do You Need to Know?
The process and information required may have changed after April 6, 2022. Environmental Managers should review their own State procedures during the planning stages of the project. State forms and procedures have reverted to the pre- 2020 Clean Water Act 401 Certification Rule requirements.
For those facilities that do not frequently require federal permitting, common activities that will trigger federal permitting and state certification can include, but are not limited to:
Placement of dredged or fill materials into waters and/or wetlands
Structural fill such as culverts and bridge support
Road and utility crossings
Gravel mining/removal
In-stream basins
Dredging, excavation, channel widening, or straightening
Flooding, excavating, draining, and/or filling a wetland
Bank sloping; stabilization
Stream channel relocation
Water diversions
Diverting, obstructing, or changing the natural flow or bed of any surface waters and/or wetlands
Constructing a barrier across a stream, channel, or watercourse that will create a reservoir; dams, weirs, dikes, levees, or other similar structures
If you have questions about 401 Certifications or have a project you need assistance with, please contact one of our team members: Karen Thompson at Kthompson@all4inc.com, Anna Richardson at ARichardson@all4inc.com, Paul Hagerty at PHagerty@all4.com, or Peter Stein at PStein@all4inc.com.