The Inflation Reduction Act
Date: November 2nd, 2022
Time: 12:00 PM - 01:00 PM Eastern Time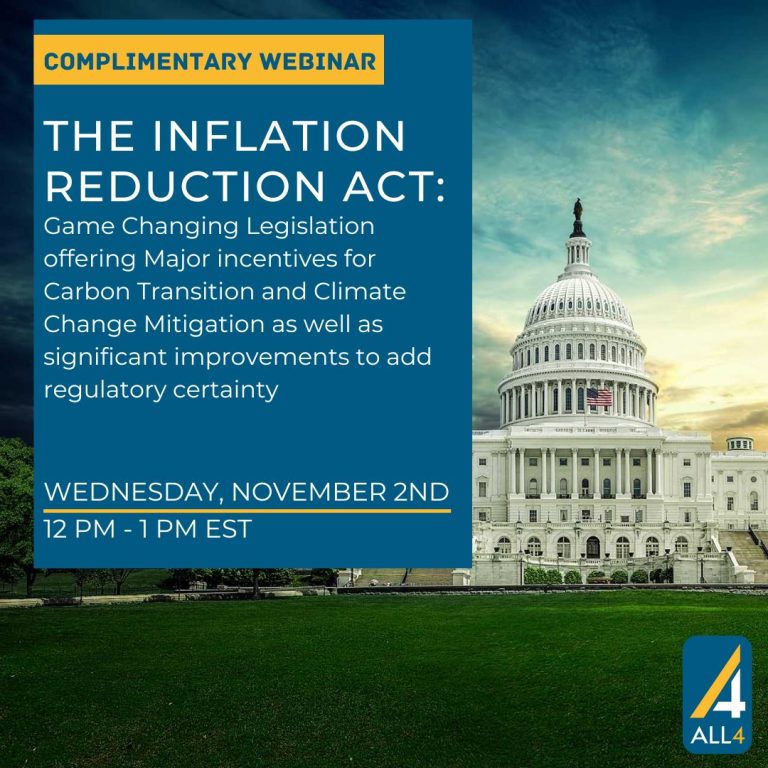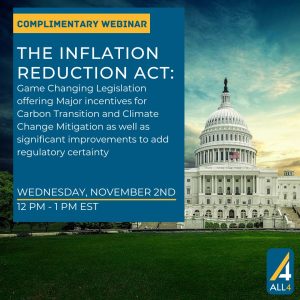 A recording of this webinar is now available. Please complete the form below to gain access to materials. 
The Inflation Reduction Act: Game Changing Legislation Offering Major Incentives for Carbon Transition and Climate Change Mitigation as well as significant improvements to add regulatory certainty
WHAT'S THE WEBINAR ABOUT?
In this virtual conversation we will explore key aspects of the Inflation Reduction Act including the incentives opportunities available in the Energy Security and Climate Change provisions, funding to promote Environmental Justice and changes to the Clean Air Act.
WHO SHOULD ATTEND?
Personnel focused on preparing their organization to a low carbon economy, those looking for opportunities and competitive advantages related to transition. Professionals who are responsible for air or other environmental compliance or interested in environmental justice.
WHY ATTEND?
Understand impacts, opportunities and market changes related to implementation of provisions in the Inflation Reduction Act.
PRESENTER(s):
Rich Hamel, Technical Director // rhamel@all4inc.com // 610.422.1171
Daryl Whitt, Technical Director Climate and Sustainability // dwhitt@all4inc.com // 984.777.3076
Connie Prostko-Bell, Practice Director ESG & Sustainability // cprostko-bell@all4inc.com // 610.422.1110
MODERATOR(s):
Samantha Foley, ESG & Sustainability Intern // sfoley@all4inc.com // 610.422.1160
Please complete the form below.  If the registration form does not display or if you are unable to submit the form, please make sure your ad blocker is turned off or open this page in a private browser.
Thank you for signing up for our Webinar! You should receive an email shortly with more details.
If you need assistance with your webinar registration contact webinars@all4inc.com