RCRA Hazardous Waste Reporting – Yes, It's Been Two Years
Date: January 26th, 2022
Time: 12:00 PM - 01:00 PM Eastern Time
A recording of this webinar is now available.  Please complete the form below to view.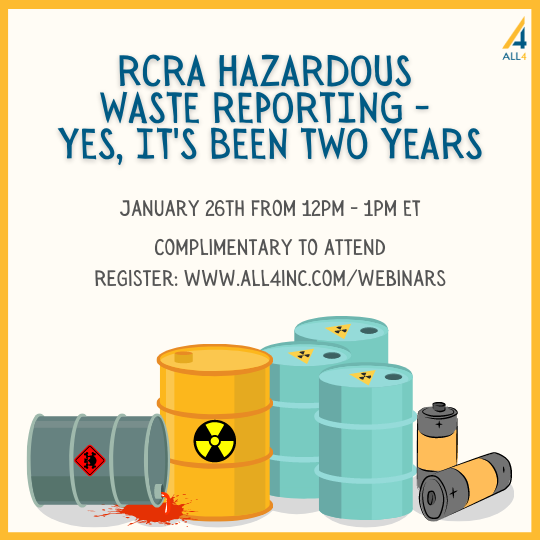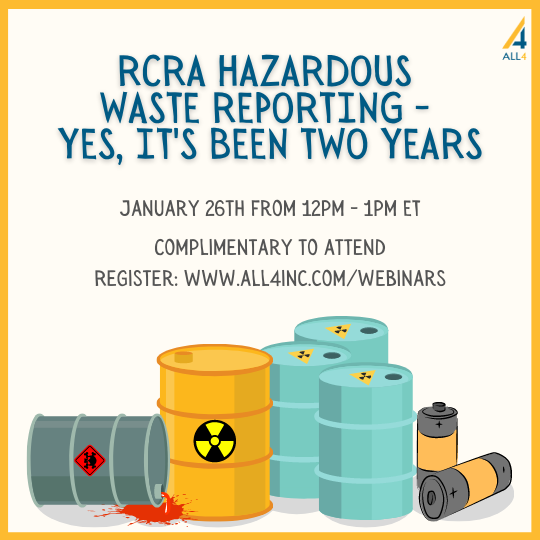 WHAT'S THE WEBINAR ABOUT?
This live expert session will concentrate on RCRA biennial hazardous waste reporting. The session will include a short presentation and an opportunity for you to ask your questions related to RCRA hazardous waste reporting.
We will discuss:
Overview of the RCRA Hazardous Waste Rule
Who, why, and when must reporting occur
Generator Improvement Rule, Universal Waste, and pharmaceutical waste
State reporting nuances
How to use RCRAInfo
Keys to success and best management practices
WHO SHOULD ATTEND?
Those with environmental recordkeeping and reporting responsibilities (e.g., corporate and site environmental staff, site management, environmental specialists, etc.) will benefit from this webinar. Hazardous waste haulers and disposal facilities will also find value in this webinar.  Feel free to forward this invitation along to your colleagues.
WHY ATTEND?
If you are a Large Quantity Generator of Hazardous Waste, you are required to file a biennial report (every even year) detailing the hazardous waste activity that occurred in the previous calendar year.  The report must be submitted to your State and/or Federal environmental regulatory authority by March 1st.  This webinar will provide insight into the reporting requirements, recent hazardous waste regulatory updates, State nuances, how to navigate RCRAInfo, the U.S. Environmental Protection Agency's (U.S. EPA) electronic reporting application, and provide best management practices.
PRESENTERS:
Heather Brinkerhoff, Managing Consultant // hbrinkerhoff@all4inc.com // 703.568.6760
Michelle Carter, Consulting Engineer // mcarter@all4inc.com // 571.222.6266
Jessica Malberg, Consulting Scientist // jmalberg@all4inc.com // 909.477.7121
Meghan Skemp, Managing Consultant // mskemp@all4inc.com // 281.937.7553
MODERATOR:
Karen Thompson, Senior Technical Manager // kthompson@all4inc.com // 859.281.1664
CONTINUING EDUCATION:
Certificates of attendance will be available upon request after completion of the webinar.
Thank you for signing up for our Webinar! You should receive an email shortly with more details.
If you need assistance with your webinar registration contact webinars@all4inc.com