Improving Sustainability with the U.N. Sustainable Development Goals (SDGs)
Date: August 2nd, 2023
Time: 12:00 PM - 01:00 PM Eastern Time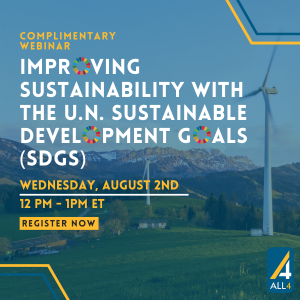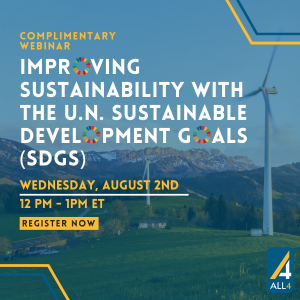 A RECORDING OF THE WEBINAR IS NOW AVAILABLE. PLEASE COMPLETE REGISTRATION BELOW FOR ACCESS.
WHAT'S THE WEBINAR ABOUT?
When we talk about sustainability, there are a myriad of reporting frameworks, platforms and requirements brought into the discussion, including the Global Reporting Initiatives (GRI), Sustainability Accounting Standards Board (SASB), the Carbon Disclosure Project (CDP), Task Force on Climate-related Financial Disclosures (TCFD), Task Force on Nature-related Financial Disclosures (TNFD) and Science Based Target initiative (SBTi) among others. Understanding the commonality of these initiatives and developing a consistent approach can be challenging and confusing.
Join our conversation about how the Sustainable Development Goals (SDGs) can provide a comprehensive, overarching structure for companies to align their business strategy, goals, and reporting practices. By incorporating the SDGs and promoting them, companies can inspire action, provide a beacon for decision making, encourage responsible consumption, drive behaviors towards more sustainable practices and contribute to achievement of their corporate goals.  The SDGs can also provide a basis for promoting stakeholder engagement and cooperation to achieve common goals.


The SDGs are a set of 17 global goals established by the United Nations (UN) in 2015 as a universal call to action to end poverty, protect the planet, and ensure peace and prosperity for all by 2030. These goals are interconnected and aim to address a wide range of social, economic, and environmental challenges facing the world today. They require collective action and collaboration among businesses, governments, civil society, and individuals to achieve a more sustainable and equitable future.
WHO SHOULD ATTEND?
Anyone in the organization who is involved in developing sustainability reports, developing transition strategies, or contributing to corporate initiatives will have an interest in this discussion.  Professionals who are responsible for environmental compliance, social and community engagement, or interested in environmental justice will also benefit from the discussion.
WHY ATTEND?
Understand how adopting and incorporating the SDGs can provide overarching structure and encourage participation in your corporate sustainability reporting and initiatives, promote stakeholder engagement and facilitate community engagement.
PRESENTER(s):
Dr. Pamela Martin, Ph.D. // Professor of Politics & Exec. Director United Nations RCE Sustainable Development Coastal Carolina University
Daryl Whitt, P.E. // Technical Director, Climate Change & Sustainability at ALL4
MODERATOR(s):
Madison Jones // Consulting Engineer at ALL4
Continuing Education
ALL attendees will receive a certificate of attendance.
Please complete the form below.  If the registration form does not display or if you are unable to submit the form, please make sure your ad blocker is turned off or open this page in a private browser.
Thank you for signing up for our Webinar! You should receive an email shortly with more details.
If you need assistance with your webinar registration contact webinars@all4inc.com