ESG Strategies for Data Centers: Navigating Trends and Challenges
Date: October 11th, 2023
Time: 12:00 PM - 01:00 PM Eastern Time
WHAT'S THE WEBINAR ABOUT?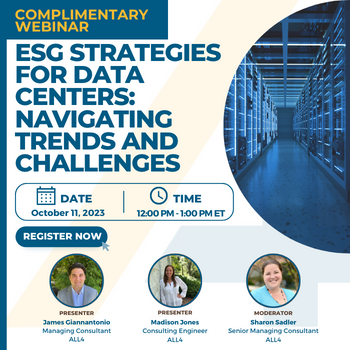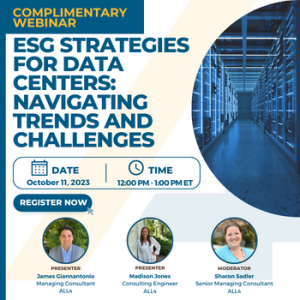 As the global demand for data storage and processing continues to soar, data centers have become integral to our digital world. However, the environmental, social, and governance (ESG) implications of these facilities are increasingly under scrutiny. This webinar delves into the world of ESG strategies for data centers, offering valuable insights on how organizations can effectively navigate the evolving landscape of sustainability, ethical practices, and regulatory compliance. Join our panel of experts as they share their knowledge, experiences, and practical insights on developing and implementing ESG strategies tailored specifically for data centers. Whether you're a data center operator, investor, or industry enthusiast, this webinar equips you with the tools and knowledge needed to align your data center operations with the evolving ESG landscape while ensuring long-term sustainability and competitiveness.
WHO SHOULD ATTEND?
This webinar caters to a broad spectrum of professionals and stakeholders in the data center industry and its related sectors. Our intended audience comprises data center executives and managers, Information Technology (IT) and infrastructure professionals, ESG and sustainability officers, financial experts, regulatory and compliance specialists, data center developers and architects, ESG consultants and advisors, investors and analysts, environmental advocates and NGOs, students and researchers, government representatives, as well as technology providers. We aim to provide valuable insights and knowledge that will benefit all these diverse groups and individuals.
WHY ATTEND?
Participating in this webinar offers numerous advantages. It provides a comprehensive understanding of evolving ESG (Environmental, Social, and Governance) principles within the data center industry, which is crucial for staying current in this dynamic field. The webinar imparts strategic insights on integrating ESG into long-term business strategies, drawing from real-world case studies to enhance attendees' ability to implement effective ESG strategies. Moreover, it keeps participants well-informed about emerging trends, assisting them in making informed decisions. Additionally, the webinar covers essential aspects such as compliance and risk mitigation for navigating the regulatory landscape. For those interested in ESG investments, it offers valuable insights and considerations aligned with sustainability goals. Lastly, it explores the sustainability impact and ESG integration of data centers, ensuring that attendees depart with a profound understanding and practical insights to excel in the evolving ESG landscape of data centers.
PRESENTER(s):
James Giannantonio, Managing Consultant | jgiannantonio@all4inc.com
Madison Jones, Consulting Engineer | mjones@all4inc.com
MODERATOR(s):
Sharon Sadler, Senior Managing Consultant | ssadler@all4inc.com
Continuing Education
All attendees of the webinar will receive a certificate of attendance.
Please complete the form below. If the registration form does not display or if you are unable to submit the form, please make sure your ad blocker is turned off or open this page in a private browser.
Thank you for signing up for our Webinar! You should receive an email shortly with more details.
If you need assistance with your webinar registration contact webinars@all4inc.com