Preparing for Agency Inspections
Date: July 26th, 2023
Time: 12:00 PM - 01:00 AM Eastern Time
A RECORDING OF THE WEBINAR IS NOW AVAILABLE. PLEASE COMPLETE REGISTRATION BELOW FOR ACCESS.
WHAT'S THE WEBINAR ABOUT?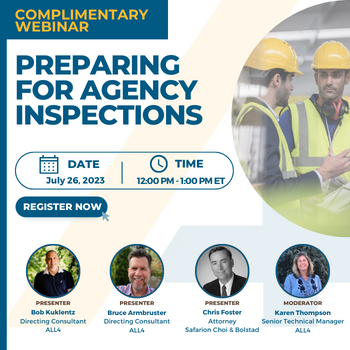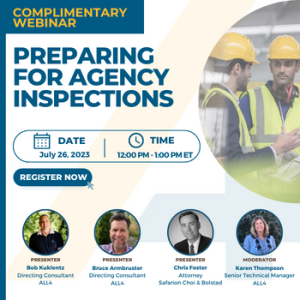 In this virtual conversation we will provide strategies for preparing for compliance inspections. The webinar will cover common items to prepare in advance, strategies to consider during the audit such as planning your audit day and follow up to the audit.
WHO SHOULD ATTEND?
Facility Managers, EHS Managers and other personnel responsible for any environmental program.
WHY ATTEND?
Preparing for Agency audits can resolve easily avoidable compliance issues and NOVs before they happen.
PRESENTER(s):
Bruce Armbruster, Directing Consultant at ALL4 / barmbruster@all4inc.com / 909.477.7103
Bob Kuklentz, Directing Consultant at ALL4 / rkuklentz@all4inc.com / 610.422.1124
Chris Foster, Attorney at Safarian Choi & Bolstad
MODERATOR(s):
Karen Thompson, Senior Technical Manager at ALL4 / kthompson@all4inc.com / 859.281.1664
Continuing Education
ALL attendees will receive a certificate of attendance.
Please complete the form below.  If the registration form does not display or if you are unable to submit the form, please make sure your ad blocker is turned off or open this page in a private browser.
Thank you for signing up for our Webinar! You should receive an email shortly with more details.
If you need assistance with your webinar registration contact webinars@all4inc.com