Best Practices for Deploying a Sustainable Air Quality EMIS Solution That Can Support ESG Reporting
Date: May 10th, 2023
Time: 12:00 PM - 01:00 PM Eastern Time
A recording of the webinar is now available. Please complete registration below for access.
WHAT'S THE WEBINAR ABOUT?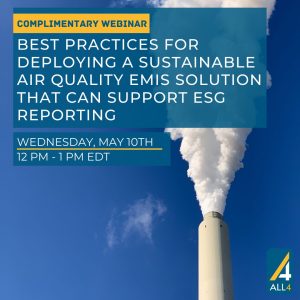 In this virtual conversation we will explore concepts such as what is an Air Environmental Management Information Systems (EMIS), common issues with deploying a system, and best approaches for both technology and user practices.
WHO SHOULD ATTEND?
Anyone in the organization interested or involved in implementing a new Air EMIS or optimizing their existing system. Professionals who are responsible for air emission calculations for annual emission inventory, ESG reporting or other internal or regulatory emissions reporting.
WHY ATTEND?
Understand challenges, benefits, and best practices for implementing an air EMIS system.
PRESENTER(s):
Julie Taccino, Digital Solutions Consultant // jtaccino@all4inc.com // 281.201.1247
Noah Zetocha, Implementation Consultant, Digital Solutions // nzetocha@all4inc.com // 610.422.1101
MODERATOR(s):
Karen Thompson, Senior Technical Manager // kthompson@all4inc.com // 859.281.1664
Please complete the form below.  If the registration form does not display or if you are unable to submit the form, please make sure your ad blocker is turned off or open this page in a private browser.
Thank you for signing up for our Webinar! You should receive an email shortly with more details.
If you need assistance with your webinar registration contact webinars@all4inc.com