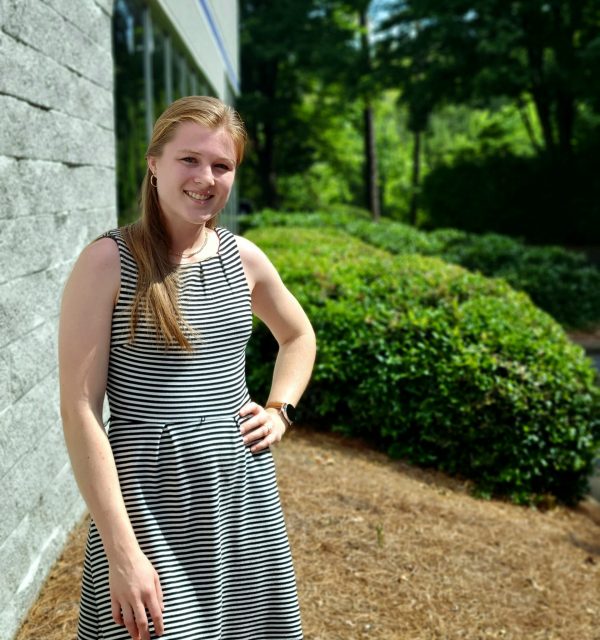 Olivia Pearson
Implementation Consultant I
Georgia - Atlanta Office
Contact Olivia
Area Of Expertise
Digital Solutions
Education
M.S. – Georgia Institute of Technology (2022) B.S.Ch.E. – University of Tennessee at Chattanooga (2019)
Career Highlights
Olivia comes to ALL4 equipped with experience from two different internships, having spent two summers interning at Keurig Dr. Pepper and three summers interning at Advanced Catalyst Systems, LLC. In addition, Olivia has contributed to numerous research projects, both at the undergraduate and at the graduate level. Olivia is optimistic that the analytical and detail-oriented mindset she has developed from her experience up to this point will make her an asset to ALL4.
Affiliations
Get to know Olivia
Have you ever had a nickname (or two)? If so, what are/were they?
Mostly people have called me "Liv" or "Livy", but a more interesting nickname I had was "George". On the surface, it was not much of a nickname since George is my maiden name, but my soccer coach informed me that he was calling me by that name also in reference to Curious George. Let's just say I was a little distractible on the field…
When you were 8 years old, what did you want to be when you grew up?
I wanted to be a singer. I was pretty sure that would work out for me. Then I got stage fright during a talent show and forgot half a verse on stage. That ended that.
What about ALL4 has surprised you the most?
So far I have been most surprised by the amount of connection and interaction across all levels and sections of the company. I am impressed how much it still feels like a small local company, even though it spans across the nation.
What was the most memorable Halloween costume you ever wore?
Energizer bunny. I opened the drum and put my candy inside it. It was a fun idea but cumbersome to wear.
Stick shift or automatic?
Automatic. I am not a car person. I just want a functioning vehicle that is simple to operate, has functioning heating and cooling, and ideally has a working aux port. I plan to outsource all of my stick shift driving needs to my husband.
Who is the most famous person you have ever met?
Steven Tyler came into the restaurant when my family got lunch in Nashville once. There was a super fan there waiting for him, and she almost passed out. His security held her away at first, but he greeted her and whispered something sweet in her ear.
Do you have any hidden talents that people you meet would not expect?
I like to sew my own clothes. I have even made a few pieces with no pattern.
What would you like to become known for at ALL4?
Doing everything I do to a high standard of excellence as much as possible. I want my peers and managers to know that if they give me a task, it will be done right.
If you were stranded on an island, what are three things you couldn't live without?
Assuming that the island had a flourishing ecosystem that I could use to sustain myself, I think if I just had a good knife, a female hunting dog, and a male hunting dog (both not fixed), I could build a pretty content life for myself. I would be able to keep up my various crafting and DIY hobbies, and I would have companionship with the potential for generations of future companionship.
What is the one thing that most attracted you to ALL4?
The culture was a major pull. It was clear from the interactions I had during the interview process that the company is full of thoughtful people that maintain healthy work-life balances.