Live Expert: Continuous Monitoring Systems (CMS)
Date: July 21st, 2021
Time: 01:00 PM - 02:00 PM Eastern Time
A RECORDING OF THIS PRESENTATION IS NOW AVAILABLE.  PLEASE COMPLETE THE FORM BELOW TO VIEW.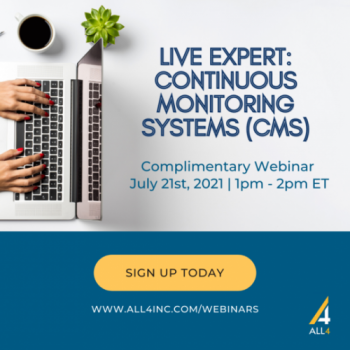 WHAT'S THE WEBINAR ABOUT?
Join us for a discussion on CMS data management and reporting of excess emissions and CMS downtime related to 40 CFR Part 60, Part 63 and Part 75.  We are making this an interactive webinar, so you have the opportunity to ask our experts questions!
PRESENTERS:
Eric Swisher // eswisher@all4inc.com // 610.933.5246 x117
Aditya Shivkumar // ashivkumar@all4inc.com // 919.457.3321
MODERATOR:
Matt Carideo // mcarideo@all4inc.com // 610.933.5246 x139
CONTINUING EDUCATION:
Certificates of attendance will be available upon request after completion of the webinar.
Thank you for signing up for our Webinar! You should receive an email shortly with more details.
If you need assistance with your webinar registration contact webinars@all4inc.com