Ask the Experts: Environmental Considerations for the Alcoholic Beverage Industry
Date: June 16th, 2021
Time: 12:00 PM - 01:00 PM Eastern Time
A RECORDING OF THIS PRESENTATION IS NOW AVAILABLE.  PLEASE COMPLETE THE FORM BELOW TO VIEW.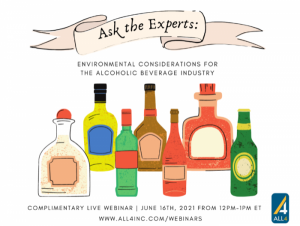 WHAT'S THE WEBINAR ABOUT?
Join us for a one-hour session where we discuss our experiences with environmental rules that affect the beverage industry.  The session will include a short presentation and an opportunity for you to ask your questions related to environmental compliance to our ALL4 staff as well as an EHS Senior Manager from the Boston Beer Company.  The presentation will focus on:
Air Permitting – Emissions Units, Permitting, and Siting Analysis
Water – Stormwater and Wastewater Considerations
Waste – Hazardous Materials
Sustainability–By-products Sale and Re-use
Lessons Learned from Industry Experts
WHO SHOULD ATTEND?
Professionals with environmental responsibilities at all stages of the beverage manufacturing process (e.g., corporate and facility environmental staff, facility management, environmental specialists, etc.). This includes those with environmental responsibilities at breweries, distilleries, wineries, packaging plants, contract beverage manufacturing sites, aging sites, etc.   Feel free to forward this invitation along to your colleagues.
WHY ATTEND?
Making a great product is hard enough, we want to make your environmental responsibilities a bit easier by telling you what we have learned over the years. In this webinar, we will discuss various environmental topics ranging from air quality, water, waste, and sustainability that affect breweries, distilleries, aging facilities, and packaging facilities.
PRESENTERS:
Guest Speaker: Michael Malchitsky, Senior Manager, Environmental, Health, and Safety // Boston Beer Company
Paul Hagerty, Directing Consultant // phagerty@all4inc.com // 484.459.7130
Stewart McCollam, Technical Manager // smccollam@all4inc.com // 502.640.5519
Christina Lynch, Managing Consultant // clynch@all4inc.com // 610.422.1135
John Slade, Senior Consultant // jslade@all4inc.com // 717.602.2699
CONTINUING EDUCATION:
Certificates of attendance will be available upon request after completion of the webinar.
Thank you for signing up for our Webinar! You should receive an email shortly with more details.
If you need assistance with your webinar registration contact webinars@all4inc.com