2022 Look Ahead: Budget Considerations for Environmental Policy and Regulations
Date: September 1st, 2021
Time: 01:00 PM - 02:00 PM Eastern Time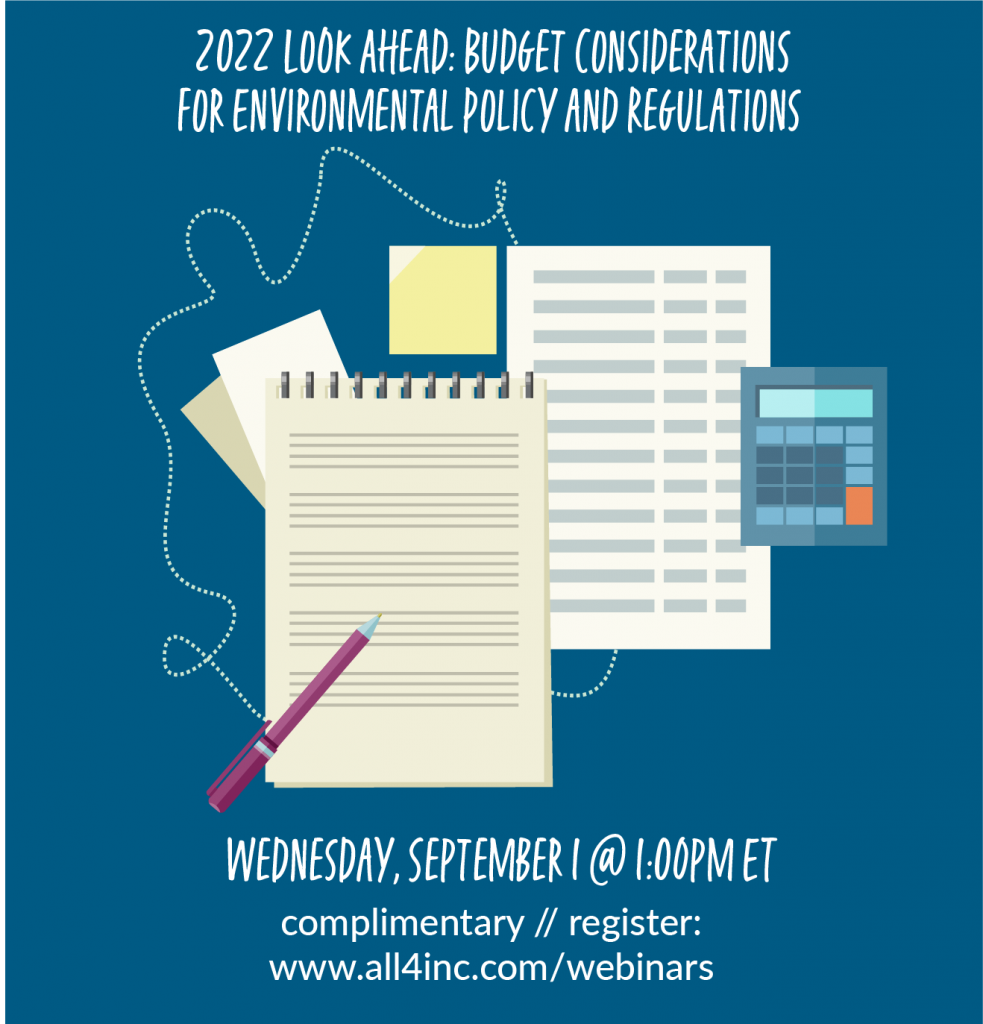 A RECORDING OF THIS PRESENTATION IS NOW AVAILABLE.  PLEASE COMPLETE THE FORM BELOW TO VIEW.
WHAT'S THE WEBINAR ABOUT?
It is that time of year when many environmental, health, and safety (EHS) budgets are being prepared for next fiscal year.  During this webinar, ALL4 experts will look ahead to 2022 and highlight important EHS topics that may require effort (and budget) that could be outside of your planned and routine EHS compliance activities next year.  Topics that will be covered include Environmental Justice (EJ), National Pollutant Discharge Elimination System (NPDES) permitting and PFAS considerations, and air quality permitting considerations, among others.  ALL4 will also highlight programs that may be nebulous now (think climate) but that could create additional unanticipated effort down the road.
WHO SHOULD ATTEND?
Professionals with EHS permitting and compliance responsibilities. Feel free to forward this invitation along to your colleagues.
Why attend?
This webinar will highlight items to consider during your annual EHS planning process that you may not have thought to include.
PRESENTERS:
Dan Dix, Technical Director // ddix@all4inc.com // 610.933.5246 x118
Paul Hagerty, P.G., P.E., Directing Consultant // phagerty@all4inc.com // 610.422.1168
Rich Hamel, Technical Director // rhamel@all4inc.com // 610.422.1171
Amy Marshall, Air Quality Practice Director // amarshall@all4inc.com // 984.777.3073
Eric Swisher, Technical Director // eswisher@all4inc.com // 610.933.5246 x 117
Stephanie Taylor, Digital Solutions Technical Director // staylor@all4inc.com //512.750.4033
Kayla Turney, Technical Manager // kturney@all4inc.com // 610.933.5246 x143
Moderator:
Colin McCall, Chief Technical Officer // cmccall@all4inc.com // 678.293.9426
CONTINUING EDUCATION:
Certificates of attendance will be available upon request after completion of the webinar.
Thank you for signing up for our Webinar! You should receive an email shortly with more details.
If you need assistance with your webinar registration contact webinars@all4inc.com