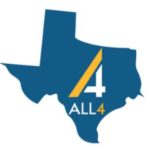 Job Description
ALL4 is seeking an experienced Air Quality Managing Consultant for our Houston Office located in Sugar Land, TX.  An ALL4 Managing Consultant is a seasoned air quality professional who shares our vision and passion for helping our clients. They are a self-motivated, coachable, growth-oriented individual who can build client relationships, successfully manage complex projects and teams, and identify business opportunities with existing and new clients.  The ALL4 Managing Consultant works closely with clients in a strategic partnership supported by a foundation of authentic communication, personal ownership, and accountability.  This individual will have the opportunity to enjoy challenging air quality work, create their own professional path, and make a tangible contribution to a growing, employee-centric, forward facing company.
Our Houston Office supports long standing client relationships along the Gulf Coast and throughout Texas, while continuously building relationships with new potential clients, resulting in a dynamic and entrepreneurial work environment.  ALL4 Houston's new Managing Consultant will join a team of air quality professionals that are well-versed in complex permitting, compliance, monitoring and modeling projects, and who are committed to furthering our mission of being a nationally recognized consulting company shaping environmental responsibility and creating distinction for clients, employees, and partners.   
Learn more about Air Quality Consultant Jobs
Responsibilities
Create value for clients by understanding their needs and working in partnership together to develop the most effective and beneficial permitting, compliance, and regulatory strategies.
Serve as the main client interface relative to assigned project work and handle all aspects of project management including proposal development, staffing, invoicing, project team communication, and project delivery.
Cultivate and lead projects generating $500,000+ in total annual revenue.
Enroll teams and manage multiple projects across regional offices and various industries to meet contract requirements for budget, scope, quality, and schedule.
Build client relationships and effectively lead projects that exceed client expectations and result in expanded and repeat business.
Provide technical expertise, including the use of ALL4 Senior Consultants, to assist and guide facilities through air quality permitting, compliance, and modeling projects.
Act as a technical resource for major and minor PSD/NSR permitting, Texas permitting programs (i.e., NSR, PBR, Standard Permits, etc.), NSPS, MACT, Control Technology Assessments (BACT/RACT/LAER), and Emissions Inventory development and reporting that are occurring across multiple state air quality regulatory agencies.
Establish relationships with regulatory organizations and provide interpretation, review, and strategic analysis of Federal, state, and local Air Regulations.
Exhibit ALL4's core values in all transactions (internally and externally) and mentor junior technical staff.
Qualifications
Engineering or applicable science degree and at least 5 years of Air Quality Permitting and Compliance consulting or industry experience. Texas specific air quality regulatory knowledge strongly preferred.
Working knowledge of technical subjects impacting clients (e.g., major and minor PSD/NSR permitting, NSPS, MACT, Control Technology Assessments (BACT/RACT/LAER/BAT), CEMS, and Emissions Inventory development.)
Excellent communication, analytical, and interpersonal skills, including strong document production skills (proficiency in Word and Excel) and technical writing ability.
Experience serving as the client's primary point of contact with the proven ability to effectively manage and motivate multiple project teams.
Demonstrated ability to formulate, present, and close proposals paired with an understanding of the consulting business model.
Established relationships with regulatory agencies, including TCEQ, and/or industrial sector facilities.
Openness to change, personal growth, and coaching.
Technical or consulting experience with Air Quality Dispersion Modeling, Auditing, Continuous Monitoring Systems, and Other Media (Water and Waste) is preferred, as well as air quality experience in petroleum refining and/or petrochemical industries
About ALL4
ALL4 is an award winning, environmental consulting company specializing in air quality consulting services, primarily assisting our clients with complex air quality permitting, air quality modeling, continuous monitoring systems, ambient pollutant and meteorological monitoring, and regulatory compliance. We provide air quality consulting services to numerous regulated industries nationwide including pulp and paper, cement, chemical/pharmaceutical, waste management, power, and automotive. ALL4 operates under the belief that the success of our company is measured by the success of our clients. We pride ourselves on fully understanding our clients' operations, culture, and business goals to the extent that we can tailor our consulting services to help turn environmental management into a company asset. Our company operates with the clear understanding that knowledge is power, that there is no substitute for experience, and that the proper application of our expertise to our clients' projects can provide them a competitive advantage within their respective industries and marketplaces.
ALL4 is honored to be the recipient of many "Best Places to Work" awards and offers a best in class, flexible, work environment, including a highly desirable Total Compensation package. Benefits include competitive salary, comprehensive medical, dental, vision, short-term and long-term disability insurance coverage, generous PTO, paid holidays, and 401K benefit, and a compelling company culture.
ALL4 is an Equal Opportunity Employer.  All qualified applicants will receive consideration for employment without regard to race, color, religion, sex, sexual orientation, gender identity or national origin, or protected veteran status and will not be discriminated against on the basis of disability.
Submit your resume on the Career Pages of our website for the Houston Managing Consultant role today!