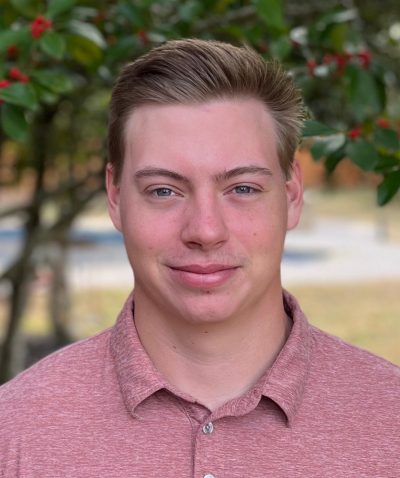 Patrick Wander
Staff Scientist
Atlanta, GA Office
Contact Patrick
Education
Mississippi State University, Bachelor of Science in Geoscience with a Concentration in Professional Meteorology, 2021
Career Highlights
Patrick is beginning his career with ALL4.
Get to know Patrick
1. Have you ever had a nickname (or two)? If so, what are/were they?
My friends in college called me Patty-Ice, which is pretty fitting now that I live in Atlanta!
2. When you were 8 years old, what did you want to be when you grew up?
It all depends on when you asked me, one day it was a professional soccer player, the next a pilot, and then later that same day it was a professional golfer.
3. What about ALL4 has surprised you the most?
How friendly and welcoming everyone has been to me, everyone is eager to make me feel comfortable and help me adapt to a new workplace.
4. What was the most memorable Halloween costume you ever wore?
I'm not sure how it took me so long to think of this but I finally decided to be Patrick Star for a Halloween party my sophomore year in college.
5. Stick shift or automatic?
Automatic 100%, I've never even attempted driving a stick shift.
6. Who is the most famous person you have ever met?
I would have to say it's a tie between Penny Hardaway who used to practice at the driving range I worked at and Dustin Johnson who I was lucky enough to walk with at the 2019 St. Jude Classic in Memphis.
7. Do you have any hidden talents that people you meet would not expect?
Golf trickshots! Although I wouldn't necessarily call it a hidden talent since they have been seen by over 15 million people on TikTok and SportsCenter.
8. What would you like to become known for at ALL4?
I would like to be known as a very dependable worker but also someone who can quickly adapt to new situations.
9. If you were stranded on an island, what are three things you couldn't live without?
My golf clubs, my disc golf bag, and my phone.
10. What is the one thing that most attracted you to ALL4?
The thing that most attracted me to ALL4 is that during my interview process everyone was very genuine, they weren't just people blindly walking through interview questions and checking boxes off. They were actually interested in learning more about me and that immediately made me want to be a part of this company.
Recent Activity