Top Ten Air Permitting Tips for New or Expanding Data Centers in Oregon
Posted: July 28th, 2020
Authors:
All4 Staff

Get to Know the Regulators – This is new to them too!
In the fall of 2019, an ALL4 data center client began the process of applying for an air permit for a new facility.  Being new to Oregon, the company referred to the guidelines provided on the Oregon Department of Environmental Quality (ORDEQ) website and set up a pre-application meeting to discuss applicable permit requirements and forms. Much of the guidance provided by the agency in the pre-application meeting shifted in subsequent discussions during application preparation due to changes in direction from Cleaner Air Oregon (CAO).
Will sources be required to submit the same documentation a year from now?  It is unclear. Companies need to understand that this program is still in its infancy and still taking shape, so they will likely need to work closely with the ORDEQ to obtain a new permit.
Know Your Location
CAO evaluates facility risk based on the type of activity that is occurring at a given location in the surrounding community.  The main types of exposures CAO considers are residential, child, and worker. A couple of questions facilities will need to ask for the CAO process:
How close is my facility to a school or childcare center?
How close is my facility to land zoned for residential use?
If the answer to these questions is extremely close, the risk analysis process is going to be difficult to pass without taking additional measures such as operational limits or add-on air pollution control devices. To avoid potential permitting difficulties, companies should look at zoning maps and try to choose a location for their new facility that is land zoned for industrial usage.
Recognize That CAO Requirements are Unique –TAC Emissions Factors and Cold Start Emissions
CAO has unique requirements for determining source emissions from engine-generators.  Unlike other state agencies which allow facilities to reference U.S. EPA AP-42 for Hazardous Air Pollutant (HAP) emissions factors, CAO provides facilities with Toxic Air Contaminant (TAC) emissions factors from a combination of sources (e.g., South Coast Air Quality Management District, Ventura County Air Pollution Control District, National Council for Air and Stream Improvement) for a specific source category and fuel type.  According to the agency, these are conservative factors that should be applicable to all equipment in the given emissions source category (e.g., diesel-fired internal combustion engines).  However, these emissions factors don't take into consideration unit size, manufacturer year, or other equipment specific factors.  Facilities should be aware that they will be held to these given emissions factors and could be required to source test for TAC to show compliance.
Another unique CAO requirement compared to many other state agencies is the need to account for cold startup emissions in the air toxics analysis for internal combustion engines.  The calculations required are extremely conservative and do not consider equipment specific factors unless a facility can support alternative numbers. New facilities should work with their engine manufacturers to see if other documentation can be used to support a more accurate and less conservative cold start emissions estimate.
Expect to Model Your Facility's Emissions
In order to meet CAO requirements, there are four possible CAO Risk Assessment scenarios that a facility may be required to complete. The basic Level 1 Risk Assessment is a conservative excel model that estimates the worst-case scenario of possible risk. For the most part only facilities that have low emissions rates, large stack heights, and large distances to property line (or at least 2 out of the 3) will be able to conduct a CAO Level 1 Risk Assessment.  The Level 2 and Level 3 Risk Assessments use modeling software and site-specific parameters to provide a more realistic estimate of the facility's risk. These models tend to be more time-consuming but are often required for large facilities to meet CAO requirements. There is an extremely comprehensive modeling effort required for Level 4 Risk Assessments, but most facilities will not need complete a Level 4. New or expanding facilities should expect to spend additional time modeling TAC emissions to pass CAO requirements.
Be Prepared – Modeling Gets Complicated Fast
To complete a Level 2 or 3 Risk Assessment, facilities need to develop a detailed list of model inputs including site-specific stack characteristics, building information (to account for building downwash), terrain data, specific exposure locations, and site-specific land use parameters. The quantity and complexity of parameters add up quickly and can easily become overwhelming.
What also gets complicated fast is the amount of data that needs to be managed.  On average facilities could be reporting anywhere from 10-50 TACs per emissions source.  Multiply that by the number of emissions sources, the number of exposure locations, and 43,824 hours (the number of hours in the required 5-year meteorological dataset), and very quickly your CAO Risk Assessment includes over a million datapoints.
Therefore, it's not only necessary to have a trained air quality modeler involved, but you also need to be able to manage a large amount of data.  This becomes increasingly important when you need to start analyzing the modeling results to determine what sources and what TAC may be driving risks and therefore require refinement.
Be Prepared to Evaluate Controls and/or Operational Limits
To pass CAO modeling requirements, facilities are required to meet CAO Risk Action Levels (RALs). RALs are low for new facilities, and thus tough to meet. RALs for existing facilities making changes are larger values so they offer the facility greater flexibility. RALs specify what level of action is needed in response to facility risk. The RALs can specify that no additional measures are required, permit conditions are required to manage risk, a community meeting is required to be held, risk reduction needs be taken (looking at add-on control devices and/or operational limits), or lastly the application is denied. Without any add-on controls, ALL4's data center client was not able to meet the RALs. Therefore, the facility chose to install Miratech Low Temperature Regeneration control devices on the engine-generators to reduce the key organic and particulate-based TACs that exceeded the RALs.
If you are a new or expanding data center, do not order the generator engine before working through the modeling. To meet CAO requirements, there is a high probability additional measures will need to be taken.
Anticipate That Permit Limits Will Be on a Daily and Annual Basis
For new data centers installing numerous emergency generators, fuel limits can be the ideal approach because they allow the generator engine more operational flexibility than hours limits, assuming the engines rarely operate at full engine load. However, this becomes tricky when modeling assumptions are incorporated into the air permit and the facility begins to look at limits on an hourly, daily and annual basis. Suddenly, the nice round annual amount of fuel gets divided up amongst units and then divided even smaller into daily quantities. Be prepared for this to be reflected in the permit. It does not mean that new facilities cannot use fuel usage to set emissions limits, but they should expect to see daily caps as well as annual caps which could result in less favorable operational flexibility for the facility.
Plan for a Public Hearing – Not a Cause for Concern
CAO is a rulemaking process that was created in response to communities raising concerns about exposure to potentially harmful heavy metals and chemicals emitted as pollutants from manufacturing and other industrial sources. So, a new facility may be concerned that the public may be an obstacle to obtaining the required air permit.  However, during the public hearing for this ALL4 data center client, there were no comments from the public. That was also the case for an earlier public hearing for a different, smaller data center. These hearings were held virtually, so the atmosphere could change once businesses begin to open back up after COVID-19, but from our experience to date, public hearings should not be cause for concern for new facilities.
Expect That Source Testing is Required for More Pollutants
CAO requires source testing for all limited pollutants including TAC. This could mean additional considerations for the stacks and ports themselves but also a significant increase in the level of effort and laboratory analysis (and therefore cost) required to evaluate pollutants beyond just nitrogen oxides (NOx), carbon monoxide (CO), and particulate matter (PM).  ORDEQ has specified that these testing requirements could change in the future but will likely be required for facilities starting out. New facilities should also know that the operating time and fuel usage for emissions testing are counted towards permit limitations, so they should budget additional hours and/or fuel for the tests below.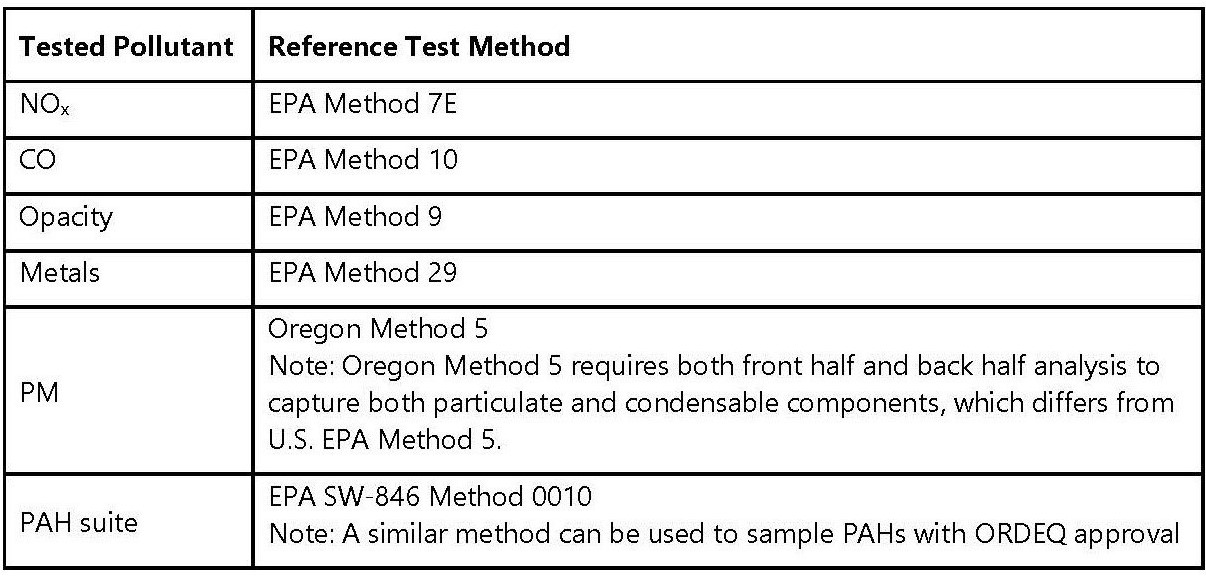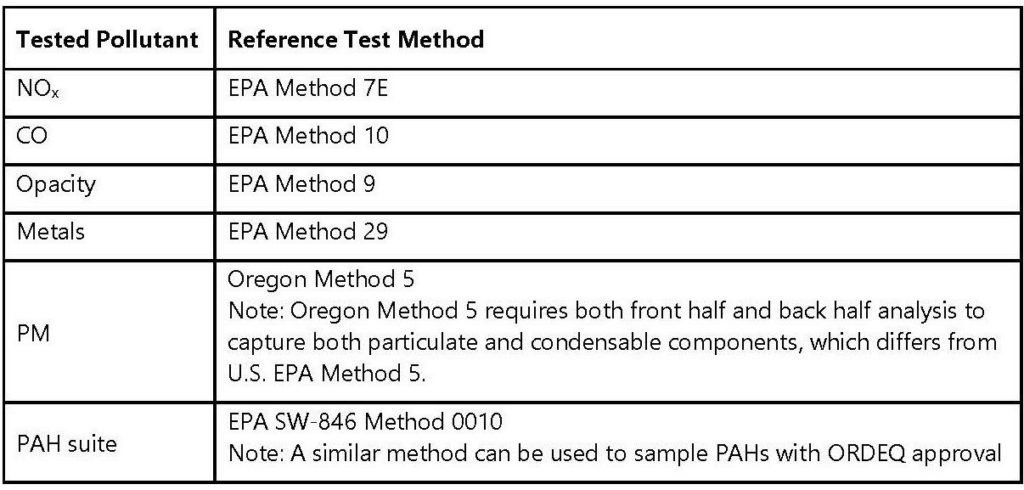 Budget Enough Time; This is an Extensive Process
In August 2019, this ALL4 client in Oregon began air permitting efforts with the eventual goal to start a data center in the spring of 2020. Right away, ALL4 began researching permitting requirements and a preapplication meeting was held in October. Following this meeting, an initial submittal to ORDEQ was made. However, a lot more work was still required to get the client to a draft permit.
After preliminary modeling showed that the facility was unable to pass CAO requirements without add-on controls, ALL4 began modeling facility emissions in multiple scenarios (e.g., varying control efficiencies and operational limits) to find a passing scenario that met the needs of the client. Modeling took multiple months as the agency modified their guidance and model inputs required refinement. By the end of February, the client received the agency's approval on their initial file submittal and could submit modeling files. Subsequent discussions with the agency and a design change by the client led to additional model modifications, and the model was finally approved in early April.
In addition, to working through the CAO process, the client also needed to work through the air permit application process. This meant discussing applicable forms, restrictions, and permit conditions. A draft permit was issued at the end of April, but ALL4 and the client had additional comments that the agency needed to review and incorporate into the document. On May 20th, the 30-day public notice was posted and a public hearing was set for June 11th. Since there were no public comments, the air permit was finalized quickly and issued in June.
11 Months. That is how long it took for this facility to obtain its air permit.  Each time the agency goes through this process, the timeline may decrease but this is a long, extensive process that may require multiple submittals and lots of discussion, even with a great team supporting the effort. Is it possible to get a permit under the new CAO requirements? Yes, but plan accordingly.
If you are a new or expanding data center don't wait to get started! If you have questions or needs help with air permitting efforts please reach out to Renee Cheng at rcheng@all4inc.com or by phone at (571) 392-2593.