TCEQ Air Quality 101 Blog Series: Everything is Bigger in Texas – Including Air Quality Modeling
Posted: November 28th, 2017
Authors:
Dan D.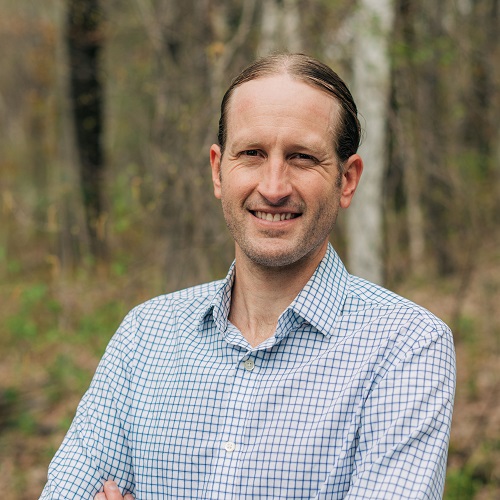 Most environmental managers aren't exposed to air quality modeling requirements unless they're dealing with a large project that trips the Prevention of Significant Deterioration (PSD) construction permitting program's Significant Emission Rate (SER) thresholds for one (or more) criteria pollutants.  However, there are several states across the U.S. that have state-specific air quality modeling requirements for minor (those projects that are not subject to PSD permitting) source permitting programs.  I've had the pleasure of assisting clients navigate these state-specific air quality modeling requirements in many states and local jurisdictions across the country.
In the past couple of years, my colleagues and I have had the opportunity to work through the Texas Commission on Environmental Quality's (TCEQ's) air quality modeling requirements associated with the minor New Source Review (NSR) permitting program.  They say, "everything is bigger in Texas", and this can be applied to air quality modeling requirements as well.
TCEQ has three different types of modeling analyses that are required to be performed as part of Minor NSR permitting, only one of which has "de-minimis" thresholds to avoid completing screening or refined air dispersion modeling.  These three analyses are:
Minor National Ambient Air Quality Standards (NAAQS) Analysis
State Property Line Analysis
Health Effect Analysis
Although TCEQ does have a lot of air quality modeling requirements [I've focused on minor NSR permits but other permitting programs like TCEQ permit by rules (PBRs) and nonruled standard permits (NRSP) also have air quality modeling requirements albeit with a few more "off-ramps" available], they also do a good job of providing guidance in their Air Quality Modeling Guidelines document (aka APDG 6232) to perform these analyses.  However, a strong background in air dispersion modeling is required to understand a lot of it.  To that end I'll distill the three analyses above into useful information that potential permittees in Texas ought to know.
Minor NAAQS Analysis
The Minor NAAQS (as it's referred to in Texas) analysis is very similar to a PSD air quality modeling analysis, and entails utilizing screening and, if required, refined air dispersion modeling to assess a project's impact against the NAAQS.  Similar to PSD air quality modeling, the Minor NAAQS analysis is a two-step process (It feels like I should be making some reference to the Texas two-step, but I'll refrain).  Step one involves modeling the project related emissions (or only the emissions increases from existing sources plus the potential emissions from any new sources), and comparing the resulting concentrations to the Significant Impact Levels (SILs).  If you can demonstrate project-related impacts are less than the SILs, you're done.  If not, you have to move onto a full NAAQS analysis which involves modeling all the emissions sources at your site at their full potential to emit rates, as well as also bringing in local sources and background concentrations (from ambient monitoring stations) into the modeling analysis for comparison to the NAAQS.
What's important to point out is the TCEQ minor NSR modeling requirement doesn't include any emissions de-minimis levels and therefore air quality modeling is always required as long as your project increases a criteria pollutant emissions rate.  Also, since this is a state program, TCEQ has more flexibility in allowing use of modeling techniques than if this were a PSD level air quality modeling analysis.  Therefore, I would recommend not being shy about presenting alternative modeling techniques to TCEQ that you wouldn't otherwise consider for a PSD project.
State Property Line Standards Analysis
State Property Line standards are Texas specific ambient standards for hydrogen sulfide (H2S), sulfur dioxide (SO2), and sulfuric acid (H2SO4).  Additionally, Galveston, Harris, Jefferson, and Orange counties have county specific State Property Line standards for SO2.  The State Property Line air quality modeling analysis is very similar to a minor NAAQS analysis in that there is no de-minimis emissions threshold and therefore, air quality modeling is always required as part of a minor NSR permit application.  However, if you are able to demonstrate compliance with the 1-hour SO2 NAAQS as part of the minor NAAQS analysis, typically you shouldn't have any problem with the State Property Line analysis.  This is because the State Property Line standards were developed before the 1-hour SO2 NAAQS was implemented in 2010 and the 1-hour SO2 NAAQS is much more stringent which also carries over the sulfur State Property Line standards H2S and H2SO4.
Health Effects Analysis
The last type of air quality modeling analysis required as part of minor NSR permitting is a Health Effects Analysis.  The Health Effects Analysis involves evaluating the ambient impacts of non-criteria pollutants to an effects screening level (ESL) developed by TCEQ for over 7,000 air toxics.  It is here where I always like to point out that all Hazardous Air Pollutants (HAPs) are air toxics (or ESLs in TX) but not all air toxics are HAPs.  This is quite obvious by the number TCEQ air toxics however, it usually means more time is necessary to calculate these air toxics as part of the emissions inventory
Unlike the minor NAAQS and State Property Line standard analyses, there is a de-minimis emissions threshold which, if met, removes the minor NSR permitting requirement to conduct screening or refined air quality modeling.  However, determining the de-minimis emissions threshold is a somewhat involved process laid out in TCEQ's Modeling and Effects Review Applicability (MERA) Air Permit Reviewer Reference Guide (aka APDG 5874).  I do have to give TCEQ credit because the MERA reference guide was just updated in September 2017 and streamlined the ESL evaluation from a 12-step process down to a 7-step process (however, there are a lot of sub-steps associated with each step, see the picture below of the new 7-step process).  Within those steps the air quality modeling requirements are similar to the minor NAAQS analysis in that first, project-related emissions are evaluated, and then a site wide analysis (with local sources) is required if initial ESL thresholds aren't met.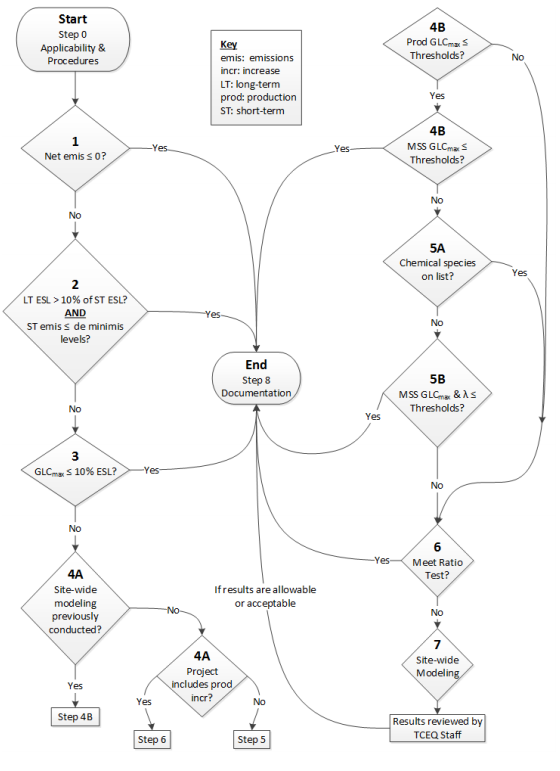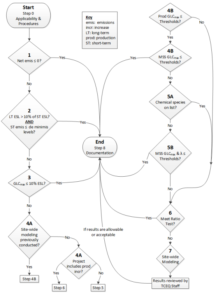 The Bottom Line
If you're permitting any sources in the state of Texas, sooner or later you're going to be faced with having to conduct an air quality modeling analysis. With more stringent NAAQS, as well as State Property Line and ESLs considerations, it is becoming increasingly more important to pay closer attention to your emissions limits, emissions release characteristics, and who your neighbors are.  If we were sitting at a bar enjoying a tasty Texas microbrew, I could certainly share a few stories of sources that surprisingly had to be modeled as well as those that had issues with identifying passing modeling scenarios for sources you might not think.  It can quickly get complicated but our time in the "modeling trenches" and relationship with TCEQ modelers have positioned us to tackle even the trickiest of modeling challenges.  If you need assistance determining if air quality modeling is required for your next project in Texas and what the scope of the modeling is, please reach out to myself or our Houston Office Director Kristin Gordon.  We have the modeling Staff and Texas experience at ALL4 to assist you with your air quality modeling needs no matter how big or small your air quality modeling project.