Refinery MACT – Final Benzene Fenceline Monitoring Provisions
Posted: October 22nd, 2015
Author:
All4 Staff

On September 29, 2015, U.S. EPA issued the long-awaited Petroleum Refinery Rule Package. U.S. EPA issued the final revisions to the Maximum Achievable Control Technology (MACT) and New Source Performance Standards (NSPS) Refinery Air Rules (i.e., 40 CFR Part 63, Subparts CC and UUU, Refinery MACT 1 and Refinery MACT 2; and, 40 CFR Part 60, Subparts J and Ja, respectively). While the Petroleum Refinery Rule Package encompassed many changes, today's blog focuses solely on the benzene fenceline monitoring provisions.
Benzene Fenceline Monitoring
I can't help but think that many environmental professionals had a few thoughts since the initial proposal that included the benzene fenceline monitoring provisions.
I've got plenty of time. The rule is not final and I have three (3) years to comply once it does become final.
Implementing benzene fenceline monitoring is an unnecessary burden and it may be removed from the final rule.
While we have a signed Petroleum Refinery Rule Package (pending publication in the Federal Register), I am here to break down the important provisions of benzene fenceline monitoring and what has changed in the final rule. By this time, we are pretty familiar with benzene fenceline monitoring requirements, so this is not an exhaustive re-hashing of the rule.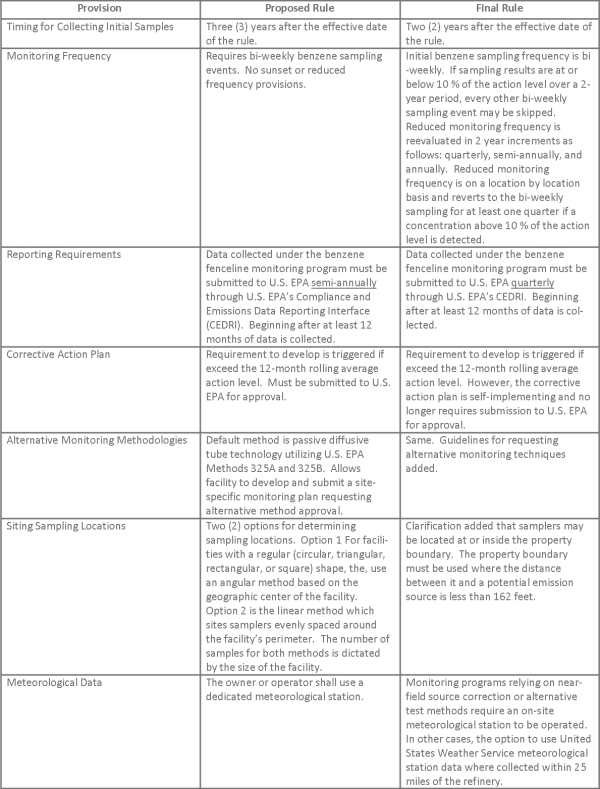 As you read this and reality is setting in, it appears as if the benzene fenceline monitoring requirements are here to stay. We can assist facilities strategically plan how to comply with the burdensome requirements. Please reach out to me if you would like to discuss the many benefits of a well thought out sampling program and monitoring plan for your facility.