Proposed Primary and Secondary Ozone NAAQS Standards
Posted: December 16th, 2014
Author:
All4 Staff

In what is surely to be a hotly contested regulatory action, U.S. EPA proposed to lower the primary (to provide public health protection) and secondary (to provide public welfare protection) National Ambient Air Quality Standards (NAAQS) for ground-level ozone from 75 parts per billion (ppb) to a level between 65 and 70 ppb. U.S. EPA's November 25, 2014 proposal reflects its conclusions based on research and review of the ozone NAAQS that began in 2008.
Based on the results of the research performed, U.S. EPA has proposed that the current primary ozone standard set at a level of 75 ppb does not protect public health with an adequate margin of safety, and that it should be revised to provide increased public health protection. Specifically, U.S. EPA has proposed to retain the indicator (ozone), averaging time (8-hour), and form (annual fourth-highest daily maximum, averaged over 3 years) of the existing primary ozone standard and has proposed to revise the level of that standard to within the range of 65 ppb to 70 ppb. As part of this action, U.S. EPA is also seeking comments on a proposed NAAQS value of 60 ppb.
Secondary NAAQS provide protection against decreased visibility and damage to animals, crops, vegetation, and buildings. According to U.S. EPA, there is evidence of significant reduction in agricultural yields because of increased ground-level ozone and pollution, which interferes with photosynthesis and stunts overall growth of some plant species. In order to identify the appropriate level of protection, U.S. EPA has proposed to use a seasonal index that scientists often use to assess the impact of ozone on ecosystems and vegetation, known as the W126 index (named for the equation used to calculate it). The unique aspect of this index is the unit of measurement that is used in the analysis: "parts per million (ppm)-hours." The unit of "ppm-hours" is used to express the sum of weighted hourly ozone concentrations, combined over the 12-hour daylight period (8:00 AM to 8:00 PM). U.S. EPA has proposed that air quality meeting a W126 index value between 13-17 ppm-hours, averaged over three (3) years, would provide the degree of protection that the Clean Air Act requires. U.S. EPA claims that this protection could be achieved by setting an 8-hour secondary standard in the range of 65-70 ppb.
In addition to adjusting the ozone standards, U.S. EPA has also proposed to expand the ozone monitoring season for many states, and update the Air Quality Index (AQI) by setting an AQI value of 100 equal to the level of the 8-hour primary ozone standard in order to ensure people are notified when air quality is unhealthy. U.S. EPA has proposed to extend the monitoring season in 33 states because a review of data shows that ozone can be elevated earlier in spring and later in autumn in many states. In some states, levels have exceeded standards even into the colder winter months. The proposed effective date of the monitoring season extension is January 1, 2017. Based on monitoring data from 2011-2013, and as shown in the figure below, there are currently 358 counties that would violate the 70 ppb standard in the United States. Based on that same monitoring data, there would be 200 additional counties that would violate a 65 ppb standard for a total of 558 counties that would be in danger of violating the attainment standards. Industries within these counties would then be presented with potential air quality permitting challenges associated with Nonattainment New Source Review (NSR).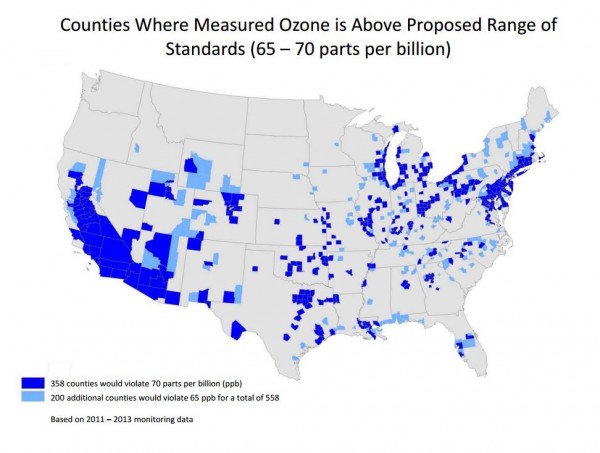 Nonattainment NSR applies to new major sources or major modifications at existing sources located in areas not attaining the NAAQS. Nonattainment NSR requirements are customized for the nonattainment area and they are more stringent than the Prevention of Significant Deterioration (PSD) requirements that apply to an area that is in attainment. For instance, nonattainment NSR programs have the following three (3) requirements:
The installation of the Lowest Achievable Emission Rate (LAER)
Emission offsets
Opportunity for public involvement
Due to the challenges that these stringent factors present, projects that involve nonattainment NSR are more likely to face permitting obstacles that change the design or permitting feasibility of the project than projects that occur in areas of attainment.
In addition to Nonattainment NSR permitting implications, state agencies will be required to take specific actions in those areas that cannot attain the eventual new ozone NAAQS. These actions typically take the form of more stringent emission limits for existing industry that are written into the State Implementation Plan (SIP) regulations. In these instances, even facilities that are not implementing new permitting projects will be impacted by a more stringent ozone NAAQS.
U.S. EPA is taking comments on the proposed action for 90 days and will be holding three (3) public hearings in January 2015. U.S. EPA will be accepting comments on the standards, including the option of retaining the current standard of 75 ppb or lowering the standard even further to 60 ppb. The final standards are set to be issued by October 1, 2015 and state nonattainment designation will be due in October of 2017 based on ambient monitoring data collected from the 2014 through 2016 calendar years.
Sources
U.S. EPA Ground Level Ozone Actions

Proposed Rule to Update NAAQS Standards for Ground-Level Ozone

Regulatory Impact Analysis of the Proposed Revisions to the National Ambient Air Quality Standards for Ground-Level Ozone
EPA Announces Proposed Ozone NAAQS Revision
An operational assessment of the application of the relative reduction factors in the demonstration of attainment of the 8-hr ozone National Ambient Air Quality Standard