Navigating Kentucky's Nonattainment Status
Posted: September 29th, 2021
Authors:
Patricia B.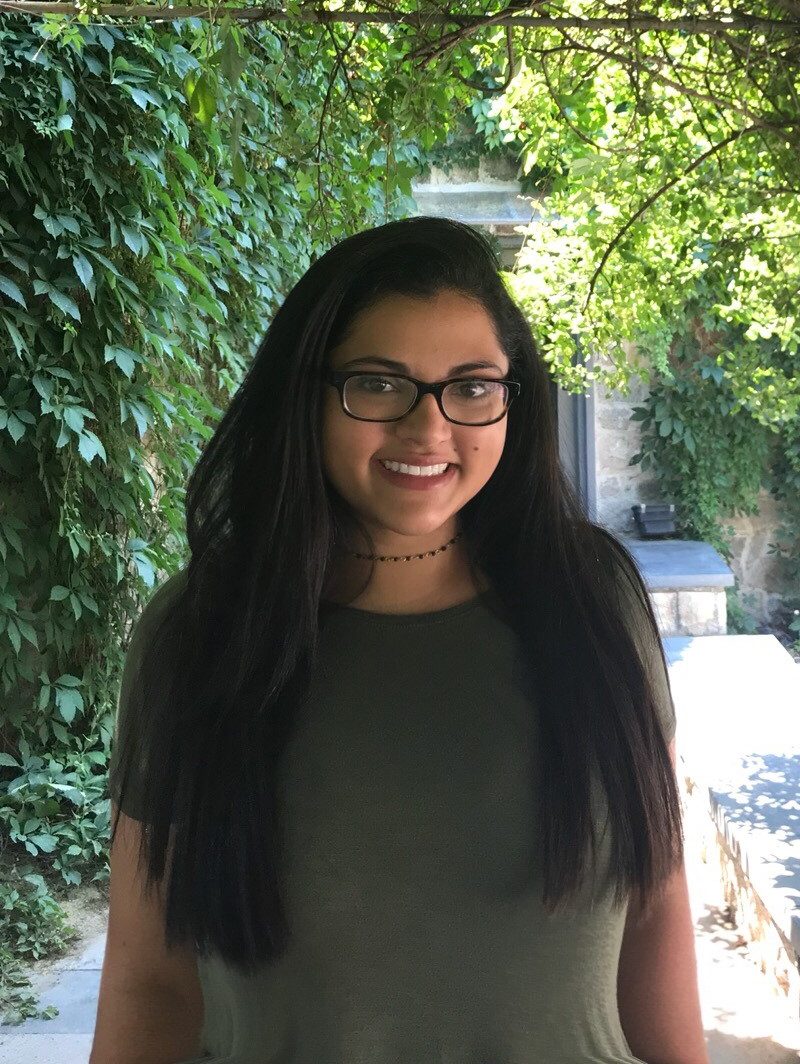 In October 2015, the U.S. Environmental Protection Agency (EPA) revised the primary and secondary ozone standards to a level of 70 parts per billion (ppb). Based on the new National Ambient Air Quality Standards (NAAQS), U.S. EPA uses national air quality data to designate an attainment status for all areas in the U.S. As of 2018, various areas in Kentucky have been designated as marginal non-attainment. This designation can lead to changes in regulations and more stringent air permitting requirements for individual facilities. This blog will explore the upcoming changes to Kentucky air quality regulations based on this designation and can serve as a resource for facilities as they navigate these changes.
U.S. EPA's 2015 Ozone Standard
On October 26, 2015, U.S. EPA revised the primary and secondary ozone standards to 70 ppb. Data from air quality monitors are used to calculate "design values" and determine if an area is in attainment. Areas meet the standards if the fourth-highest daily maximum 8-hour ozone concentration per year, averaged across three consecutive years, is equal to or less than 70 ppb. .
For the years 2018-2020, air quality monitors recorded exceedances of the 2015 ozone standard for Jefferson county in Kentucky, Butler county in Ohio, Hamilton county in Ohio, and Warren county in Ohio. Based on these violating monitors, EPA designated Bullitt, Jefferson, and Oldham counties as marginal nonattainment areas in June 2018 (Figure 1). Similarly, Boone, Campbell, and Kenton counties were designated as marginal nonattainment areas in 2018 (Figure 1).
Now, you may be wondering why Ohio monitors are used to determine attainment status for Kentucky. Well, this is because U.S. EPA determined that emissions from sources in Boone, Campbell, and Kenton counties were affecting the monitors in the Cincinnati, OH area right across the Ohio River. This is enough to designate these counties as marginal nonattainment areas, according to U.S. EPA.
Figure 1: Areas of Nonattainment for 2015 Ozone Standard in Kentucky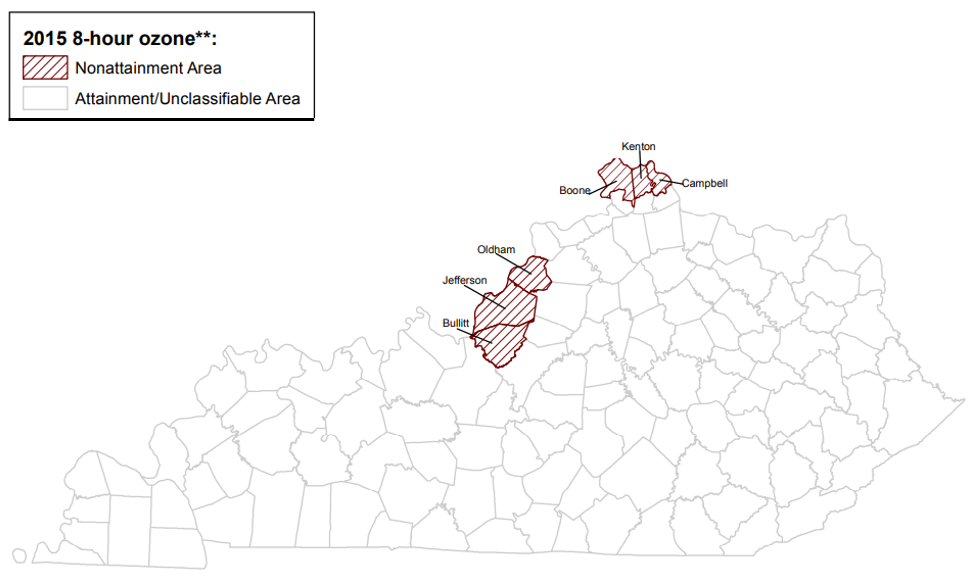 Levels of Nonattainment and Their Requirements
As stated above, the nonattainment areas in Kentucky are "marginal nonattainment." Marginal nonattainment is the lowest level (ozone range: 71 to less than 81 ppb) with the least stringent requirements. Currently, the only requirements for Kentucky to address marginal nonattainment areas are to submit revisions to their State Implementation Plan (SIP) and to submit a current inventory of actual emissions for all sources.
Areas designated as marginal nonattainment have 3 years to reach attainment status before they are "bumped up" to moderate nonattainment status. Unfortunately, since the current marginal nonattainment counties failed to attain the ozone NAAQS during 2018-2020, they will be bumped up to "moderate nonattainment" in 2022.
Unlike marginal, a moderate nonattainment designation (ozone range: 81 to less than 93 ppb) comes with a few more strings attached. Although the counties in Kentucky are not within the range mentioned above, the "bump up" automatically occurs if attainment is not achieved. Moderate nonattainment areas are required under the Clean Air Act to implement:
Nitrogen Oxides (NOx) Reasonably Available Control Technology (RACT).
Volatile Organic Chemicals (VOC) Control Techniques Guidelines (CTGs).
New offset ratio of 1.15:1 for New Source Review (NSR).
Vehicle Emissions and Inspection Management Program.
These requirements are in addition to those for marginal nonattainment, and the areas have 6 years to reach attainment. Figure 2 below shows the different nonattainment levels and their requirements.
Figure 2: Levels of Nonattainment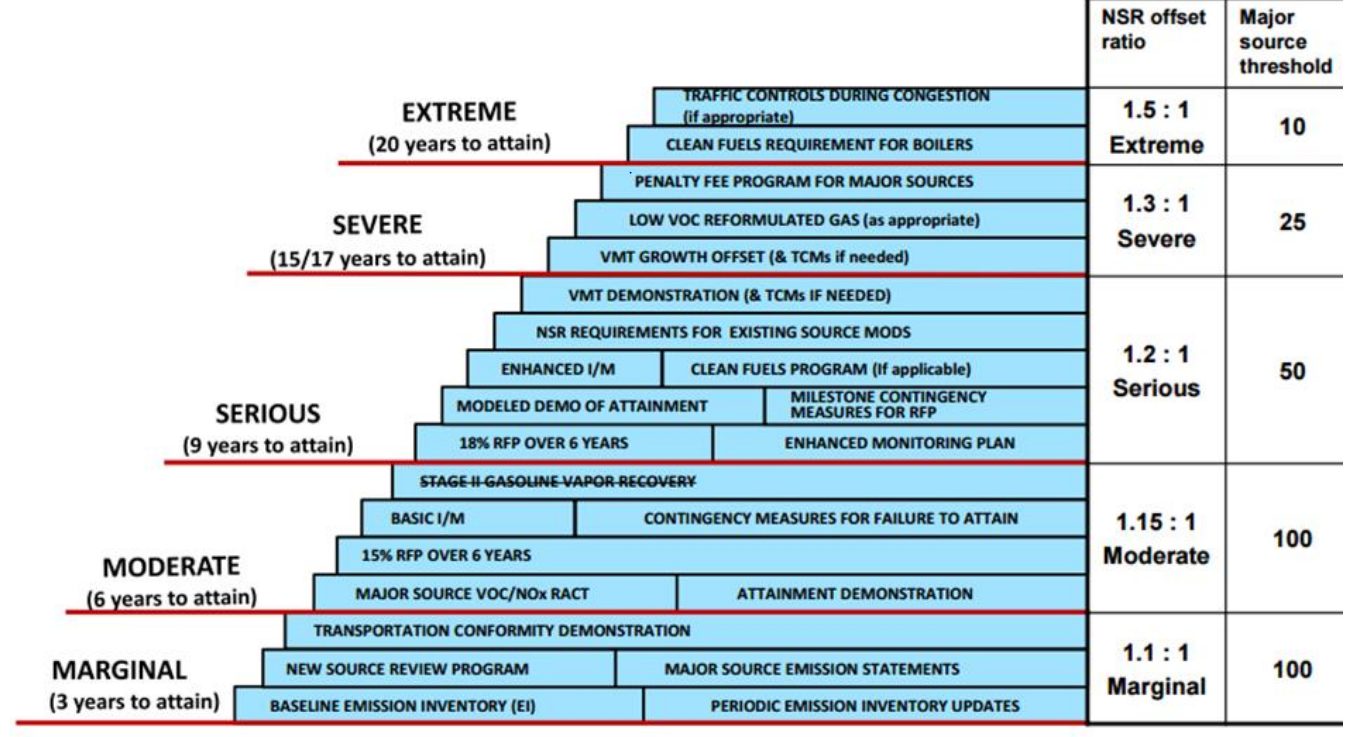 What Does This Mean for Your Facility?
The ozone nonattainment areas in Kentucky have not yet been designated as moderate nonattainment; however, EPA has already notified Kentucky that the bump up will occur in Fall of 2021. Therefore, implementation of moderate nonattainment requirements will begin within the next year.
Overall, the main impact of this new designation will be to future construction projects. New emission sources with the potential to emit VOC and NOx will be strictly regulated since those are the components of ozone. Additionally, the NSR offset will require facilities to reduce 1.15 tons of emissions for every 1 ton of emissions added. Fortunately, most facilities will not need to worry about the vehicle emissions and inspection management program.
In addition to the requirements mentioned above, Kentucky is required to submit revisions to their State Implementation Plan (SIP). This could lead to new regulations and requirements for existing facilities with emissions of VOC and/or NOx. This has already begun at Louisville Metro Air Pollution Control District (LMAPCD) and the Kentucky Energy and Environment Cabinet (KY EEC).
The following revisions to the Kentucky SIP have already been submitted to the EPA:
Ambient Air Quality Standards (7/2017):

The air quality standards for carbon dioxide (CO), lead (Pb), nitrogen dioxide (NO2), ozone, particulate matter (PM10 and PM5), and sulfur dioxide (SO2) were changed to reflect the new NAAQS. These new standards can be found in 401 KAR 53:010.

Infrastructure SIP (3/2020):

An "infrastructure" SIP contains provisions that ensure the new NAAQS will be implemented, enforced, and maintained in KY.

Prevention of Significant Deterioration and Modeling Infrastructure Requirements (9/2020):

New major sources and major modifications in attainment areas of KY are subject to federally-approved PSD permitting program.
Modeling based on EPA's guidelines in 82 FR 5182 is the most appropriate, but alternative modeling can be used in KY.
In addition, LMAPCD has revised their regulations to reflect the new nonattainment status. As of May 2020, Regulation 1.06 requires all stationary sources that emit greater than 25 tons per year of VOC and/or NOx under Louisville Metro to submit a statement to the District of actual ozone precursor emissions for the previous calendar year of operation.
With all that said, navigating this new nonattainment status will be tricky. Luckily, ALL4 is here to help! Our consultants can keep you informed on the latest air regulatory and policy developments as they happen, so you can consider how your facility may be impacted. Contact me at pbarreto@all4inc.com or (502) 509-7999 for more information or to discuss a strategy.