Meet Lizzie Smith
Posted: January 7th, 2021
Authors:
Lizzie S.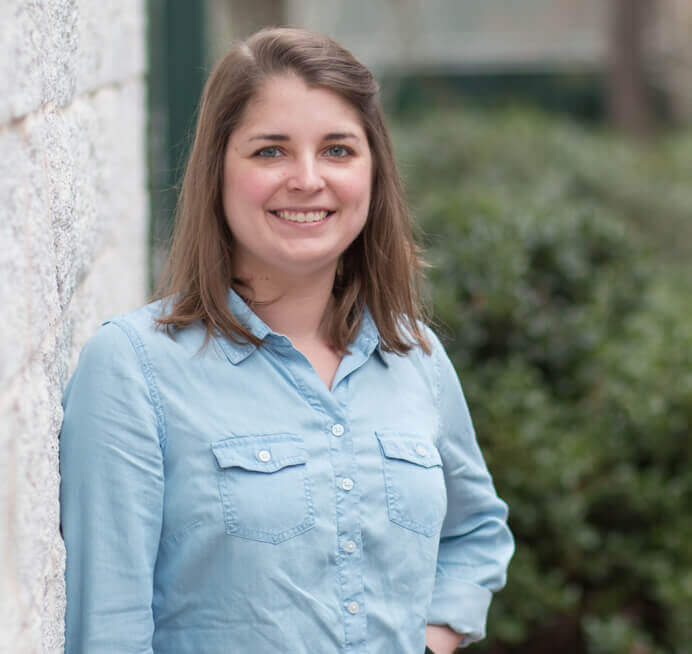 Lizzie Smith // Project Manager // Atlanta Office
What three adjectives would co-workers use to describe you?
Organized, engaged, and cat mom. I know 'cat mom' isn't really an adjective, but my furbaby makes a lot of cameos during calls with colleagues so it's likely how they'd identify me.
You're admired as someone who can keep a very calm demeanor, particularly when under pressure. Any pro-tips that you can share on how you approach stressful situations?
I attribute it to keeping things in perspective. I'm fortunate to have a Coordinator who is a very even-keeled person and great mentor for how to remain calm, cool, and collected during any scenario. For me staying calm fosters a vibe of keeping things in perspective and I like to fall back on the fact my colleagues and I are smart, capable people who can work together through challenging situations.
Pre-COVID you became a member of ALL4's remote work force serving in the Project Manager capacity. What strategies did you put in place to make that transition successful for you, and ALL4?
Since I'd lived more than an hour away from ALL4's Atlanta office, I'd been working 3 days/week from home prior to our move to the Augusta area. One of the things that helped make the transition to being full-time remote successful was being very intentional in how I stayed connected with co-workers. As a Project Manager working with several project teams at any given time, it's very important that my teams feel I'm accessible and approachable. As a rule of thumb, I ask myself before typing an email, "If you were in the office, would you have stopped by someone's workspace to address this matter?". 90% of the time the answer is "Yes", so I pick up the phone and call them, or connect via a Teams video call. At the end of the day, human interaction is a powerful thing.
We just wound down this year's Masters Tournament. You and your husband, Joel, don't live too far from the Augusta area – have you been able to attend a Tournament?
To be honest, we're not big sports fans in our household so we've not attended; however, some of our family members have and said it's really a special event. What is fun to be a part of is the 'buzz' in the Augusta area in gearing up for the tournament and when the event is taking place. The downtown area is decorated, and the region is bustling with visitors!
One of your quarantine creations was revamping your backyard and deck area of your new home. What other projects do you have in the works?
One of our first big projects we did was a deck makeover. We started by replacing some of the older wood pieces, took up staining as a hobby, and then livened up the area near the pool with some landscaping and potters. It was a big investment of time and energy, but it really turned out nice and wound up being our 'go-to' place. Next on the list is replacing light fixtures, interior painting, painting our kitchen cabinets, and adding subway backsplash. So it looks like those staining skills…they're now going to be coming in handy on the painting side!
You often find yourself flexing your technical muscles and working on a variety of projects – wastewater, air, CFATS. How did you go about expanding your technical areas of expertise at ALL4?
I came to ALL4 from the pulp and paper industry with a strong background in wastewater. At the time I made the switch to consulting, ALL4's focus was on air permitting and compliance, so I enrolled in AQ101 and AQ201 to build a strong foundation for myself as I began working on projects. With my wastewater experience from working at the mill, I've helped to grow our wastewater bench strength. A few years back I had an opportunity to work on ALL4's CFATS project team which was something that caught my interest technically which resulted in me leading a number of CFATS projects at ALL4.