In Memory of Rocco Marinaro
Posted: March 28th, 2012
Author:
All4 Staff

ALL4 recently lost a great client and a wonderful friend. Rocco P. Marinaro, the Environmental Compliance Manager at Keystone Cement Company's Bath, Pennsylvania facility passed away tragically on March 12th. Rocco had held his position at Keystone since 1997 and was a client of ALL4's since the day we opened our doors in March 2002. His role at Keystone was extremely demanding as the facility operates approved, and highly regulated, hazardous waste fuel firing cement kiln systems. I personally worked with Rocco throughout his entire career at Keystone and I watched him work tirelessly to elevate the compliance aspects of the facility's waste fuel program and overall operations. As a result of his commitment and character, he was able to gain a high level of trust with the numerous regulatory personnel that he dealt with and to ultimately achieve a level of environmental performance for the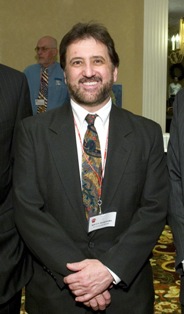 facility that was commended by the responsible environmental agencies.
Over the years Rocco became a close personal friend and allowed me the privilege to gain insight into his world outside of environmental rules and regulations. He was an extremely intelligent and gifted individual. He loved to learn and to travel and was enamored with the mountains in North Carolina where he vacationed each year. He was also an accomplished musician and photographer and several of his pictures grace our offices at ALL4. His great sense of humor was perfect for getting us through regulatory issues that often completely mired one's sense of reality. We miss you Rocco and trust that you are in a better place far removed from worrying about project netting and global warming and all those other special issues that weighed down many a day.