Draft Greenhouse Gas Cap and Trade Bill Released by Congress
Posted: April 13th, 2009
Author:
All4 Staff

On March 31, 2009, Democrats in Congress released a discussion draft Greenhouse Gas (GHG) cap and trade bill that would cover 85% of U.S. GHG emissions. The bill, entitled "The American Clean Energy and Security Act of 2009," is comprised of four titles: Title I – Clean Energy, Title II – Energy Efficiency, Title III – Reducing Global Warming Pollution, and Title IV – Transitioning to a Clean Energy Economy. Title III of the bill is of particular interest as it identifies two new titles under the Clean Air Act: Title VII – Global Warming Pollution Reduction Program and Title VIII – Additional Greenhouse Gas Standards.
The Title III provisions of the draft bill are apparently based on the recommendations of the U.S. Climate Action Partnership (USCAP) and establish a market-based program to reduce GHG emissions from industrial and electric utility sources that account for 85% of domestic GHG emissions. Entities emitting more than 25,000 tons per year of CO2 equivalent (CO2e) would be subject to the allowance program. However, sources that emit 10,000 tons per year CO2e will only be required to report emissions. The market-based program would require regulated entities to possess allowances for each ton of their GHG emissions. The available allowances would decline over time, resulting in aggregate GHG emission reductions. The allowance program would establish 2005 as the baseline year, against which required aggregate GHG reductions would be measured.
Title III also establishes:
Offset provisions, which would allow regulated entities to increase emissions above their allowances if the increases can be offset by reductions at other sources.
A Strategic Reserve of allowances to be made available by auction should allowance prices become unacceptably high.
An allowance "Banking" system, which would allow facilities to bank allowances for use during future compliance years.
A Supplemental Pollution Reduction program that would achieve additional reductions in GHG emissions through agreements to prevent deforestation.
Carbon Market Oversight through the Federal Energy Regulatory Commission.
GHG Standards for non-allowance sources.
Finally, Title III of the draft includes a provision specifying that CO2 and other GHGs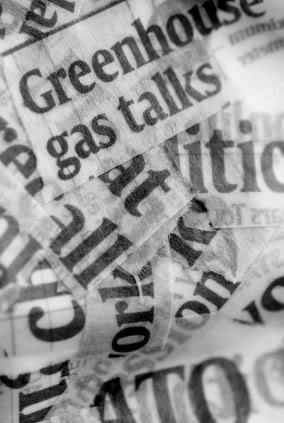 would not be regulated as criteria air pollutants or hazardous air pollutants and that New Source Review (NSR) would not apply to GHG emissions (note that only Part C of title I is exempted and not the non-attainment Part D NSR permitting requirements). GHG emissions would be defined as "…carbon dioxide, methane, nitrous oxide, sulfur hexafluoride, hydrofluorocarbons emitted as a byproduct, perfluorocarbons, nitrogen trifluoride (which is a newly listed GHG), and any other anthropogenic designated as a GHG by the administrator."