Decarbonization in the Cement Industry and the Role of the Science Based Targets Initiative (SBTi)
Posted: October 27th, 2022
Authors:
James G.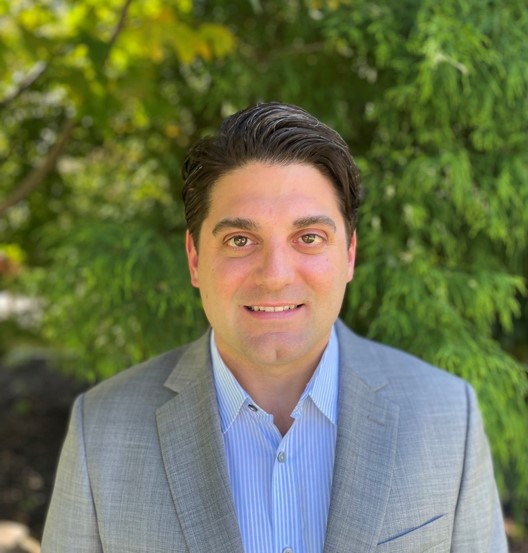 Like the power and transportation industries, decarbonization of the cement industry is crucial for meeting the United Nations Framework Convention on Climate Change's (UNFCCC) Paris Climate Agreement to limit global warming to well below 2, preferably to 1.5 degrees Celsius, compared to pre-industrial levels. The Paris Agreement roadmap includes a goal to reduce global greenhouse gas (GHG) emissions by 45% by 2030 and to reach net zero by 2050 to combat climate change. Currently, the cement industry is the third-largest industrial energy consumer and the second-largest industrial carbon dioxide (CO2) emitter in the world, representing about 7% of global CO2 emissions. "The cement industry alone is responsible for about a quarter of all industry CO2 emissions, and it also generates the most CO2 emissions per dollar of revenue." In addition, "around two-thirds of the cement CO2 emissions come from the calcination of limestone." As a main ingredient to concrete, and with the demand for cement projected to climb steadily for years to come, action must be taken to optimize and decarbonize cement consumption in buildings and construction including finding methods that are less carbon intensive and more sustainable. This is key to help society meet the GHG emission reduction goals and help slow the effects of global climate change.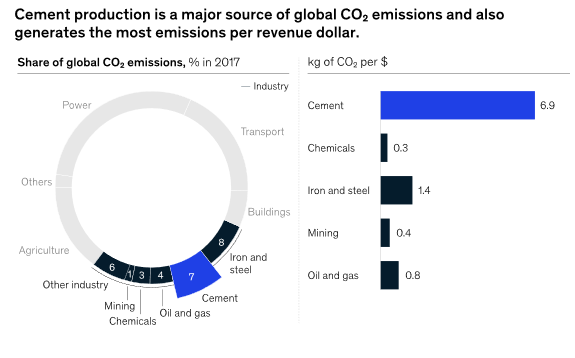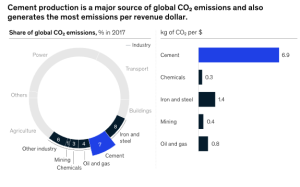 Source: https://www.mckinsey.com/industries/chemicals/our-insights/laying-the-foundation-for-zero-carbon-cement
The cement industry faces many challenges in today's marketplace, including supply chain disruptions from events such as geopolitical disagreements and global pandemics, and more prominently from pressure from investors and stakeholders to incorporate environmental, social, governance (ESG) practices into management and operations. These pressures loom large on the cement industry and make it difficult for companies to come up with effective management strategies to start their sustainability journeys effectively and with transparency.
One organization that is leading the way to assist companies with setting targets and strategies to meet the Paris Agreement's net zero goal is the Science Based Targets Initiative (SBTi). The SBTi was launched in 2015 to help companies align GHG reduction with climate science to avert the impacts of climate change and provide a resource for peer benchmarking. The SBTi is a collaboration between the CDP, the United Nations Global Compact (UNGC), the World Resources Institute (WRI), and the World Wide Fund for Nature (WWF) with a goal to assist companies with setting science-based climate targets to decarbonize the planet. The guidance the SBTi provides publicly assists companies with figuring out how much and how quickly they need to reduce their GHG emissions to align with the Paris Agreement. The SBTi drives ambitious climate action in the private sector by enabling companies to set targets that are in line with sector standards and benchmarking. The SBTi's success is demonstrated by the number of companies utilizing the standard today, with over 3,865 companies, that collectively hold a third of the global economy, involved.
The SBTi has developed science-based target setting methodologies, tools, and guidance specifically for the cement industry and other cement-related stakeholders. The recently launched Cement Science Based Target Setting Guidance is the world's first known framework for companies in the cement industry and aims to assist companies with setting their near- and long-term science-based targets in line with the Paris Agreement. The guidance provides details on how to set targets and deal with processes that are specific to the cement and concrete sector, GHG accounting criteria and recommendations, as well as examples on how different types of companies can use the tools and guidance to submit a target for validation. Ultimately, the SBTi's cement guide aims to specify how much and how quickly a company would need to reduce its GHG emissions in order to align with the 2050 net zero goals.
At the current moment, carbon reduction strategies in the cement industry have relied heavily on improving equipment and energy efficiency measures. "Today, the most efficient cement plants can squeeze only 0.04% of energy savings per year by upgrading technologies. More needs to be done." With many of those initiatives already implemented, it's clear that a much more multifaceted and collaborative cement ecosystem approach will be needed to offset total emissions from global cement production. As the SBTi presents in their cement guidance, the decarbonization of the cement industry will need to include a variety of techniques and strategies to meet the Paris Agreements net zero goal. The following priorities are a few areas of action and research that the SBTi lays out in their guidance to assist cement companies decarbonize their processes:
The reduction of cement consumption: Using less concrete has the potential to reduce the demand for cement significantly. This can be done through building codes changes, better education for architects and construction workers, and more recycling and reuse of concrete.
The use of the latest building and manufacturing technologies: Ensuring that production plants are fitted with the best available technology offers immediate gains. Improving insulation of industrial plants can save 26% of the energy used; better boilers cut energy needs by up to 10%; and use of heat exchangers can decrease the power demands of the refining process by 25%." There is also a lot of opportunity for growth in how technology can assist emission heavy industrial sectors, as stated by Brian Deese, the Biden administration's Director of the National Economic Council; "On the industry side, both investing in R&D and in the deployment of new technologies that will help US industry lead in creating low-carbon or zero-carbon industrial applications to the future, whether that's low carbon materials, steel, cement, or in zero-carbon areas like CCS and hydrogen. Those are places where you need public investment to help unlock new breakthroughs. And we have a big stake in having that innovation happen in the United States and then having the manufacturing happen co-located with the innovation."
Developing new low-carbon cement varieties and reinventing the steel product: This includes making cement with limestone alternatives, using other cement variants that are low carbon, replacing some of the clinker with more sustainable materials including blast-furnace slag and ash from coal-fired power stations. An example of a new low carbon cement is known as carbon-free activated clay-based cement.
The substitution of low-carbon energy sources for fuel and electricity: This includes the use of hydrogen, solar, wind and other renewable energy sources.
The promotion of carbon capture, utilization, and storage (CCUS) technology: This includes capturing carbon dioxide released from combustion and process sources and storing it underground or otherwise using it. Although the potential for carbon capture is quite high, the technology is not yet to scale. CarbonCure, a company that specializes in injecting CO2 into a concrete mix, and a leader in the space, states that most producers of cement using its technology only achieve CO2 emissions reductions of 4% to 6%. There is still a lot of growth and innovation needed in the CCUS arena to assist with the net zero goal and, as stated by the American Chemical Society, "most CO2 recycling technologies are still emerging, and their development has to be boosted in the next decades".
Proper governance: This includes effective policies and stakeholder engagement throughout the cement industry's value chain that encourage sustainable development.
As pressure from stakeholders increases and the sales of traditional cement faces threats of non-viability, the combination of new technology, innovation, new ways of thinking, and new business models will be essential to ensuring a low carbon future that is sustainable for the cement industry. Working with the SBTi and using its Cement Science Based Target Setting Guidance will provide the support cement companies require to start their decarbonization journeys making sure they are robust, clear, and practical. It is vital that industries such as the cement industry collaborate and push each other to find innovative ways to decarbonize their industry.
If you would like to learn more about how ALL4 can assist your company with its environmental, social, and governance (ESG) goals, including setting a scienced-based target with the SBTi, please reach out to James Giannantonio at jgiannantonio@all4inc.com.
Sources:
https://www.aboutamazon.com/news/aws/aws-is-partnering-with-a-concrete-company-to-develop-a-more-sustainable-concrete-mix-for-its-data-centers
https://sciencebasedtargets.org/sectors/cement
https://pubs.acs.org/doi/10.1021/acssuschemeng.1c06118
https://sciencebasedtargets.org/sectors/cement
https://www.nrdc.org/experts/sasha-stashwick/carbon-capture-concrete-could-one-day-be-carbon-sink
https://www.mckinsey.com/industries/chemicals/our-insights/laying-the-foundation-for-zero-carbon-cement
https://www.mckinsey.com/capabilities/sustainability/our-insights/spotting-green-business-opportunities-in-a-surging-net-zero-world/transition-to-net-zero/cement
https://www.nature.com/articles/d41586-022-00758-4
https://www.enr.com/articles/54809-new-technologies-for-reduced-carbon-concrete-are-on-the-horizon
https://www.sciencedirect.com/science/article/pii/S2352728516300240