ALL4's: Is That Your Final Answer?
Posted: March 30th, 2012
Author:
All4 Staff

Last Month's Answer and Winner:
The upper Midwest made it 2 for 2 for correct answers to our 2012 series of "Is That Your Final Answer" questions. Mr. Richard Brown of CMS Energy in Filer City, Michigan correctly and swiftly identified that there was no leap day in years 1700, 1800, and 1900. As many respondents (including Robin of PCA who provided a very complete answer) stated, years ending in "00" are not leap years unless the year is evenly divisible by 400. Thanks to everyone for participating and good luck with our March question.
Question:
Earth Day 2012 is on April 22 and looking back there are several events that precipitated the environmental movement. For example, an oil spill off of the Santa Barbara coast moved Senator Gaylord Nelson to found a day to teach about the environment in 1970,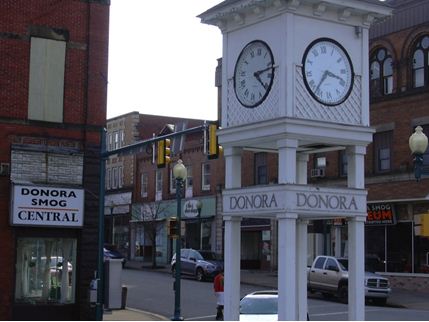 the first Earth Day. The works of Rachel Carson, specifically "Silent Spring" in 1962, lead to the creation of the Environmental Protection Agency. However, before either of those two milestones, an event in October 1948 that led to the death of more than 20 citizens and stricken half of the local populace, triggered the first federal air quality rules in 1955. For the March "Is That Your Final Answer" question, name the city and state where this tragic episode occurred. See the photo to the right for a hint.
Answer:
Please e-mail your answer to final.answer@all4inc.com. Include in the e-mail your name, answer, and address (to receive your prize).

ALL4's Final Answer is a monthly feature of our Blog Digest. It is designed to test your knowledge across the environmental field, quiz you on the building blocks of air quality rules, stump you on ALL4 general trivia, and challenge you with brain teasers that have perplexed us. The first correct answer e-mailed to us will qualify the respondent for free ALL4 gear and will enter the winner in our end-of-the year "Final Answer Championship." The subsequent month's Final Answer will identify the winner and the correct answer from the previous month's question. You must be an active subscriber of ALL4's Blog Digest to win a monthly prize and be eligible for the championship prize. ALL4 employees and family members are not eligible to compete. Hope you enjoy this feature and good luck!