4 Rules Survey Says?
Posted: July 30th, 2012
Author:
All4 Staff

The results are in! Last month we asked our readers to vote about when we would see the final Boiler MACT, CISWI, and NHSM* rules from U.S. EPA. With only two days left in July, it looks like most of our readers were on the right track by selecting August – but only time will tell. On July 18, 2012, U.S. EPA expanded and extended its March 13, 2012 No Action Assurance (NAA) regarding the Area Source Boiler MACT initial tune-up requirement. Recall that the Area Source Boiler MACT promulgated on March 21, 2011 required an initial tune-up to be conducted no later than March 21, 2012. However, the December 23, 2011 proposed reconsideration of this rule extended that date by one year, leading to uncertainty within the regulated community and ultimately to U.S. EPA's March 13, 2012 NAA.
The purpose of the July 18, 2012 NAA is to additionally cover the submittal of the Notification of Compliance Status (NOCS) regarding the initial tune-up, which would have been due by July 19, 2012 (i.e., 120 days after the March 21, 2012 compliance date). After all, how can you certify compliance with a requirement that was not enforced in the first place? While originally scheduled to remain in effect until the earlier of October 1, 2012 and the effective date of a final rule, the NAA was also extended to the earlier of December 31, 2012 and the effective date of a final rule. Although the NAA applies only to the Area Source Boiler MACT, could the extension be an indication of further delays for all of the Boiler MACT and CISWI rules?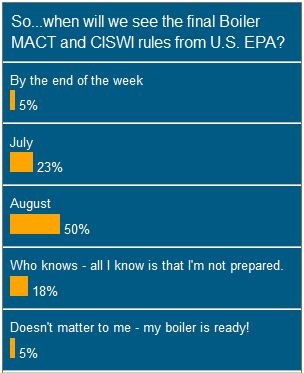 * Not familiar with those acronyms? No problem:
MACT = Maximum Achievable Control Technology
CISWI = Commercial and Industrial Solid Waste Incineration
NHSM = Non-hazardous Secondary Materials