EnviroReview: ALL4's Environmental Regulatory Consulting Service
How much more time would you have in your day if you didn't have to worry about keeping up to date on environmental regulatory changes?
What if you received an environmental regulatory update report specifically customized to your business, and a regular consulting call with an environmental expert to discuss your environmental challenges and concerns?
EnviroReview: The Call

EnviroReview also includes support: a regular consulting call with an environmental expert. During the call you and your EnviroReview Consultant (i.e., John, Dan, or Neal) can discuss how the activity contained in the report impacts your business, as well as the environmental challenges you're facing at your facility(s).
EnviroReview: The Report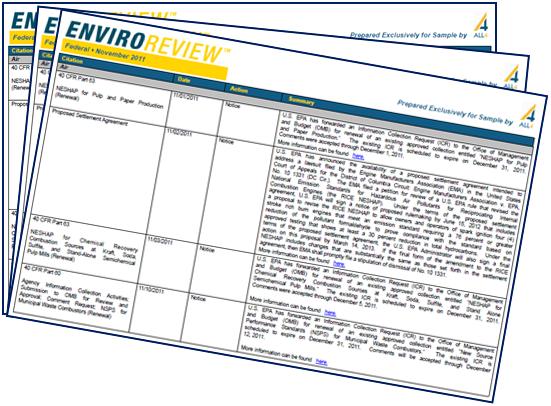 EnviroReview includes a concise tabular summary of changes and events in state, local, and/or Federal regulations based on the previous month's environmental activity. This EnviroReview report identifies changes in multimedia environmental regulations that specifically may have applicability to your company.
EnviroReview: Why do environmental professionals subscribe?
EnviroReview saves environmental professionals valuable time
EnviroReview reduces a company's environmental risk
EnviroReview satisfies ISO14001 requirements
EnviroReview has been saving companies' time and reducing environmental risk since 2002.