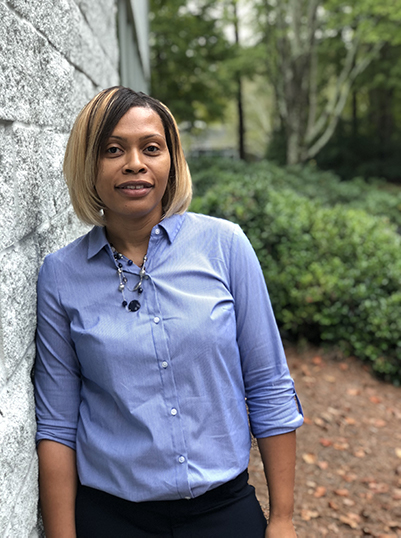 Lisa Hamilton
Administrative Assistant
Atlanta, GA Office
Contact Lisa
Education
Troy University, Master of Science in Human Resource Management, 2011 Valdosta State University, Bachelor of Science in Psychology, 2006
Career Highlights
Lisa joined ALL4 in September 2018.  She enjoys her role as an Administrative Assistant at ALL4's ATL Office.  The Office Assistant role allows her to support the ATL office in putting deliverables together and helping to ensure the office runs smoothly.  She has experience with Microsoft Office Suite and Adobe programs and enjoys creating magazines in her spare time.  She enjoys being able to assist the marketing department when needed.  She likes to be creative in assisting with conferences, webinars, trainings, and the day-to-day marketing tasks that make ALL4 the unique company that it is.  Lisa also enjoys being able to continue to promote the culture of ALL4 as an administrative assistant.  From developing employee social events to welcoming new employees, these are just a couple of things that makes ALL4 a Best in Class Workplace that welcomes the creativity of others.  ALL4's yearly employee event in 2021 gave Lisa an opportunity to create an employee cookbook magazine for one of the giveaway items at this event.
Connect With Lisa:

Get to know Lisa
Have you ever had a nickname (or two)?  If so, what are/were they?
No
When you were 8 years old, what did you want to be when you grew up?
A cartoon artist. I really loved to draw (although I believe I lost that talent a long time ago)
What about ALL4 has surprised you the most?
The kindness and helpfulness of everyone that I have encountered concerning my job. Your first day can be intimidating, but the staff here makes you feel like you are a part of the team from day one.
What was the most memorable Halloween costume you ever wore?
An M&M character costume
Stick shift or automatic?
Automatic, I never even challenged myself to attempt to drive a stick shift
Who is the most famous person you have ever met?
Steve Smith (retired Atlanta Hawks player)
Do you have any hidden talents that people you meet would not expect?
I love to grill.
What would you like to become known for at ALL4?
Being an asset to the company
If you were stranded on an island, what are three things you couldn't live without?
Water, Family and my grill (that includes Kingsford Charcoal and lighter fluid)
What is the one thing that most attracted you to ALL4?
The family- oriented environment. ALL4 is a very positive atmosphere to be a part of.